If you didn't watch the first season of Hot In Cleveland, you missed out on some funny stuff. Last night,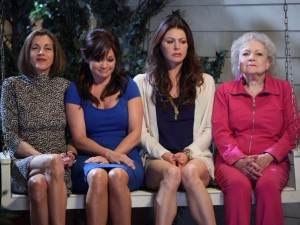 TVLand did an hour review of Season One, behind the scenes, bloopers and a preview of Season Two. It is not very often that I laugh out loud at comedy, but even watching snippets from past episodes had me laughing so hard I cried.
The premise is that three middle aged women (older than middle age, actually) are stranded in Cleveland on their way to Paris. The attention they get there, and their ability to just be themselves without feeling judged leads them to settle in Cleveland. Valerie Bertinelli as Melanie, Jane Leeves as Joy and Wendie Malick as Victoria are the three stars. The house they rent comes with a caretaker, none other than Betty White as Elka. Together, these four women are comedic magic. They are all long-time veterans of comedy, so their timing is perfect. Their range runs from banter to farce to physical comedy, and not one of them misses a beat.
That four older women can pull off such a brilliant show makes my heart sing. In a time when shows are cancelled if the audience is older than 49, it's refreshing to have a show appeal directly to the audience others find repelling. The thing is, as you age, you don't change. When I was younger, I had a hard time understanding that and, my mother, for example, used to embarrass me with her humor. Old people weren't supposed to act like that. Now that I'm older myself, I understand that the situations don't change, the expectations of others on how you react to them. Hot In Cleveland proves that the expectations fall short. Women still want to be sexy and attractive, and little we've learned along the way makes us any more savvy in dealing with awkward situations.
They've been blessed with some of comedy's all time greats as guest stars, including Carl Reiner, Tim Conway and soap star Susan Lucci. The second season is expected to feature Mary Tyler Moore, bringing back some of the magic she shared with Betty White on the Mary Tyler Moore show several decades ago.
I have always been a huge fan of Wendie Malick, and she is my favorite character on the show. She never disappoints. Embedded below is a "best of" segment as she takes Victoria Chase, soap opera star, up and down the spectrum. I dare you not to laugh. And, if you don't, hop on over to TVLand to watch full episodes. Season Two starts on January 19th. If you're a fan of comedy and classic television, you really can't afford to miss Hot In Cleveland.