House of Lies debuts its first episode tonight with "Gods of Dangerous Financial Instruments," as Don Cheadle takes on the role of smooth-talking head of a management consultant team out to take their cut from the wealthy in need of image control. In spite of a few intriguing threads, House of Lies feels every bit as shallow as its lead characters.
Let's get one thing out of the way. I don't like House of Lies. In principle, I like the idea of an edgy and inventive corporate dramedy with such impressive stars as the award-winning Don Cheadle, Kristen Bell, and even everyone's favorite Parks and Recreation mega-douche Ben Schwartz, but House of Lies does not equal the sum of its parts. Naturally cable networks exercise far more freedom with their adult content, but when the opening image of a series highlights both male and female nudity, and its first few lines consist entirely of swears, we can safely recognize when one tries too hard to be 'edgy.'My time spent watching House of Lies reminded me of the most generic screenwriter's attempt at a 'cool'script, shoveling as much sex and doublespeak as possible into a weak, and disorganized premise.
Based on Martin Kihn's true-to-life book House of Lies: How Management Consultants Steal Your Watch and Then Tell You the Time, Showtime's adaptation follows Marty Kaan (Cheadle) as he leads an underdog squad of management consultants Jeannie (Bell), Clyde (Schwartz) and Doug (Josh Lawson) in their efforts to bleed corporate overlords dry while maintaining their image. In short, Don Cheadle mugs at the camera while selfish people try to make other selfish people appear less selfish.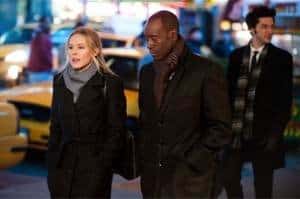 The biggest problem with House of Lies, ahem, lies in its lack of likeable characters, and a script that doesn't know what it wants its lead to be. 'Gods of Dangerous Financial Instruments'shows us multiple colors to Marty Kaan as only Don Cheadle can enact, but never settles on how it wants us to view him. Is he the golden child running circles around more successful management consultant firms, a smarmy sleazebag convinced he can have anything he wants, or a deeply vain individual slowly cracking under the weight of his own image? To Cheadle's credit he sells the hell out of Marty Kaan, in true spirit of the character, but isn't given much to play off of, either. Bell's Jeannie doesn't seem to have much depth to her, and few if any of the other supporting characters have anything worth exploring over the course of a full season.
In particular, I found the freeze-framing device (made popular in past years by Ferris Bueller and Zack Morris) a huge detriment to the show, a weak screenwriting device utilized to deliver information without showing it. Very little of what Kaan explains to the audience couldn't have been figured out organically, so they only serve the purpose of reapeatedly interrupting the narrative flow, or alienating the character from the audience. Allowing Kaan his apparent narrative omnipotence by default makes the characters around him seem less interesting, a latent dramatic irony, one which so far hasn't justified its purpose beyond Jeannie pointing out how Marty 'insulates'himself. Perhaps if the device switches to other characters in later episodes it might provide some unique perspective on the events unfolding, but I haven't seen anything beyond the pilot to know for sure.
So far it seems that House of Lies only really has Don Cheadle and Kristin Bell going for it, with their effortless chemistry, but it's hard to invest in a relationship so clearly telegraphed and overconfident. Perhaps a deeper exploration of Marty's introspection could make the series stronger, but for now it seems like a lot of flash and a thin premise buried under an overpowering soundtrack and a misguided sense of glorified sleaze.
And Another Thing…
I'm not going to touch with a 40-foot pole how best to raise a gender-exploring child, but I'd hope the writers take more care than using the subject as a cheap gimmick.
I will say that in spite of my abhorrence of the 'freezing'plot device, it works when it drops its pretentiousness. Rather than speaking, Don Cheadle holding up cue cards a la Bugs Bunny made for a decent gag.
I can just see the action description in the screenplay for the double date, reading 'BLAH BLAH THE GUYS ARE TALKING, AND THEN THE CHICKS TOTALLY LIKE, MAKE OUT ALL OVER EACH OTHER. THEY TOTALLY MAKE OUT! THEN, OTHER STUFF HAPPENS.'
Since everybody's probably thinking it, I'll just say it. There's no way Kristin Bell will ever be nude on this show. Sorry.
On the subject of whether or not to like Cheadle's character, he supports and campaign on his son's behalf to have the school accept a non-traditional gender casting of Grease, only to skip out on attending the show for a parking-lot quickie. Where to go with that is beyond me.
Wait a second, did they rehearse and put on that show in the span of three days?!
What did YOU think?