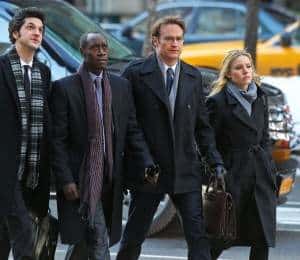 Two more promos for Showtime's House of Lies have been released and if the tone of each is any indication, we're in for a smooth, snarky good time of a show.
The gist of both, aside from not-so-subtle comments about part of the male anatomy, seems to be to introduce the world of management consulting and the role that it plays in our everyday lives. These are the people behind the people in power, the ones who do all the dirty work and who seemingly have the real power.
The show, based on Martin Kihn's House of Lies: How Management Consultants Steal Your Watch and Then Tell You the Time, brings Don Cheadle (Hotel Rwanda) to TV for the first time as Marty Kaan, a charismatic management consultant that will stop at nothing to get to the top. Joining Cheadle is Kristen Bell (Veronica Mars), who plays one of Marty's co-workers, Ben Schwartz (Parks & Recreation) as Marty's closest friend, and Dawn Olivieri (Heroes), portraying Marty's drug addicted ex-wife who is also his primary competition.
House of Lies premieres Sunday, January 8th at 10:00 on Showtime, joining Shameless and Californication.