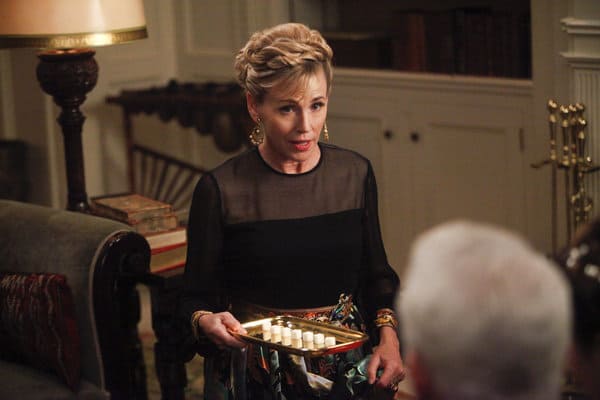 According to Deadline, the number of people entangled in the web of Marty Kaan will increase next season on House of Lies. Bess Armstrong has signed on to recur on the dark comedy, reportedly playing a corporate executive in a 6-7 episode arc. The character, named Julianne Hotschragar, is said to be a Meg Whitman-type, so the pod may be dealing with a tech giant with political aspirations.
Which could be the thing to lead them to help her. The pod has made their name being able to restore the most tainted of public images and if Julianne is either in the middle of a slumping campaign or thinking about dipping her toe into the political pool, she'll likely need the boost that a consult with Marty Kaan and company can provide. Going into politics makes every skeleton in one's closet fair game and if there's anything that the pod can do well, it's spin a negative situation into a positive that will ultimately benefit their client. If she's serious about making a run for office and wants another weapon in her arsenal aside from deep pockets, calling Galweather might be the best move she could make.
In addition to her role on My So-Called Life, where she played Angela's mother Patty, Armstrong has appeared on the likes of Mad Men, Castle, and One Tree Hill. Additional guests next season on House of Lies include Nia Long and Larenz Tate, who will be playing a former classmate and the brother of Marty Kaan, respectively.
The second season of House of Lies premieres Sunday, January 13th at 10:00 on Showtime. You can check out a number of teasers for the season here.
Will Galweather-Stern be able to help Julianne in whatever she needs? Do you think that chemistry within the pod will be altered due to Jeannie's hook-up with Marty? What type of client would you like to see Marty, Jeannie, Clyde, and Doug consult this season?