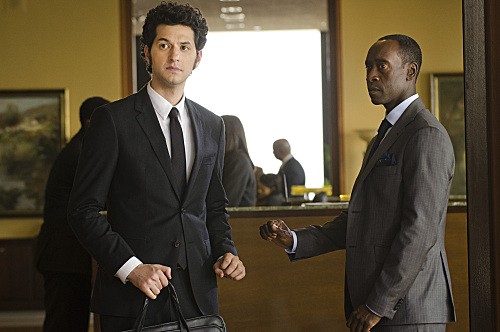 The change of leadership at Galweather left an air of uncertainty around the second season of House of Lies. Marty and the Pod had been at the very top of the ever competitive management consulting dog pile during the prior administration and the introduction of a new executive might end up knocking them down a peg or two. Fortunately, Julianne seemed to understand what an asset she had in Marty, but when work gets in the way of a personal matter, he might not care about being Galweather's all-star closer.
On the next episode of House of Lies, Marty confronts Julianne over the conflict between an executive retreat and planned time with Roscoe. Judging by the sneak peek below, Marty ended up not going to the retreat, which got under Julianne's skin and caused her to become passive aggressive with him once again. Marty, himself also annoyed at the situation, calls her on it and she all but threatens his job as a result. Marty may be one of the premiere closers in his field and capable of bringing a boatload of money to any firm he works for, but he lost the comfort he had last season once Julianne came aboard. There's no question in her mind of his greatness; she just won't take as much of the stuff that comes with that greatness as her predecessors did.
Elsewhere on House of Lies, Tamara reveals something about her personal life that piques Marty's interest, while Doug introduces the Pod to his new girlfriend Sarah, who Clyde promptly hits on.
House of Lies airs Sunday at 10:00 on Showtime.
Should Marty have been that aggressive with Julianne, considering how much power she wields? Is the Pod now in danger of being cut due to Marty's actions? What will Doug do when he finds out that Clyde hit on Sarah?