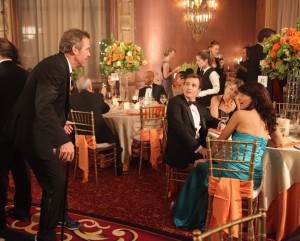 Was it just me or did this episode feel like it would never end?
Maybe my expectations were too high after last week's amazing 'A Pox in our House?'and that's why this week's 'Small Sacrifices'felt like a yawn fest for me. I think we can all agree that this season has been very irregular quality wise, but I had honestly thought that, after they had finally delivered an excellent episode last week, things would take off from there.
Looks like I was wrong because 'Small Sacrifices'was just plain boring. I feel like a broken record here when I say that things went wrong when House and Cuddy got together. I know the shippers will be more than ready to crucify me for that, but sadly, it's the truth. Believe me, I wanted them to get together as well. All that dancing around each other for six seasons had to culminate in something. However, the approach they have taken to portray their relationship is completely ruining the show. House has been known for great medical mysteries and a very, very strong lead character and those seemed to have disappeared.
That's exactly what went wrong in this episode and so many others this season. They seem to focus in the relationship and leave the rest in the background. This episode in particular, seemed to concentrate solely in the relationships of every character. Cuddy is still upset that House lied to her; Chase is still being a womanizer for God knows what reason, Wilson decides to propose to Sam again and Taub thinks his wife is cheating on him (which would serve him right).
In the middle of that, they tried to tell a story of a guy with an unshakeable faith that refused treatment because it was against his beliefs. That was the only semi-interesting plot in the episode and it was relegated to the background because the main focus was on relationships I honestly didn't care about. The only relationship I kind of liked to see was Wilson and Sam because they finally showed him as something more than House's love councilor. Other than that, I couldn't care less that House and Cuddy were still fighting over something that has happened two episodes ago or that Taub was afraid his wife was cheating on him with someone she met online.
The sad thing is I know I should care. After all, that's character development — or an attempt at it — staring me right in the face. But the way they have been handling it doesn't make me even want to care. This is the infamous Moonlighting curse everyone always talks about: two characters that have great chemistry, great sexual tension, spend years dancing around each other, frustrating the audience, who wants them to get together badly. However, when they finally do get together, it feels like all that spark that drew us in, in the first place, is gone and it inevitably ruins the show.
And that's exactly what is happening with House. I know a lot of people may disagree with me, but even I can't deny that the show has seen better days. The ratings have been in a free fall since the season started and that never helps, even if it's with an established, classic show like House.
Here's hoping we will get something resembling 'A Pox in our House?'in the near future because I'm not sure how much longer I can take this.