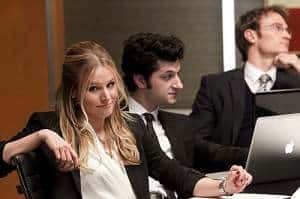 After successfully aiding a bank on the verge of collapse under public pressure, Marty Kaan and the folks of Galweather & Stearn are now setting their sights on the sports industry and it looks like they're well on their way to conquering that bastion of corruption as well. On tonight's episode of House of Lies, the client is a sports franchise dealing with a messy public divorce, a PR nightmare that dealt a crushing blow to the Los Angeles Dodgers last season.
In addition to another sticky situation that the Pod has to get unstuck, House of Lies is giving us our first alone time with a supporting character. Kicking things off is Jeannie, who spent a lot of the premiere trying to stick it to Marty and his wandering eye. This time, however, the recent college grad is reuniting with an ex who happened to be in Phoenix at the same time she is. Even though the two find their way into one another's arms, you may want to check out the second sneak peek, where Jeannie finally understands why her ex actually contacted her.
Also on House of Lies, Marty's flamboyant son Roscoe continues to (fabulously) explore his gender identity through cross-dressing at school. Considering how poorly they acted to him auditioning for the role of Sandy in their production of Grease, you can only imagine how ghastly Roscoe has been dealt with. Marty may not be a good man or an honest man (yet), but he overcame how uncomfortable he was about Roscoe to attend the performance and stick up to his teacher, so if he gets wind of this, expect some serious pain to be brought.
House of Lies airs tonight at 10:00 on Showtime following a new episode of Shameless. If you missed Kevin Fitzpatrick's take on the pilot, you can check it out here.