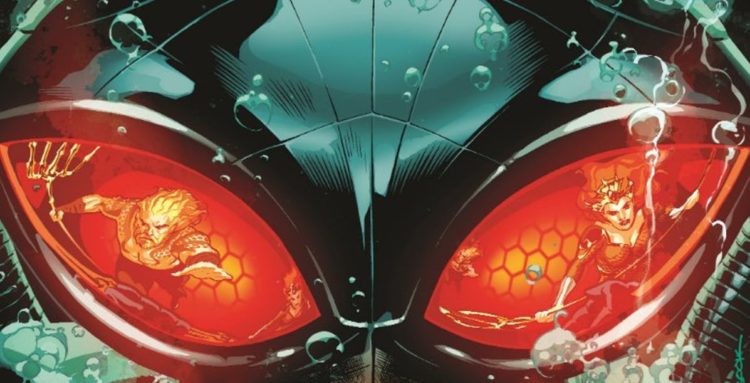 If I had to pick one of the most brutal supervillains of all time, Black Manta would be at the top of the list. In fact, I can argue that he's the most brutal supervillain ever. Yes, that includes putting him above The Joker himself, another DC villain. Don't get upset just yet, Joker lovers. Now what is it about Black Manta that's just so awesome? For starters, he just looks friggin cool. Even way back when superhero and villain costumes were corny-looking, Black Manta just had scary look. Ever since I saw him, I just thought how awesome he would look in live-action form. Speaking of which, when he made his live-action debut in the DC Cinematic Universe's Aquaman movie, he did not disappoint. I still can't get over how awesome their fight scene was.
Now I've heard some fans criticize Black Manta's appearance in the movie, saying that he wasn't around long enough. I respectfully with that criticism for multiple reasons. First of all, who was meant to be the main villain of the Aquaman movie? Well, it sure wasn't supposed to be Black Manta. No, it was Aquaman's half-brother, Orm, aka Ocean Master. As cheesy as Ocean Master's supervillain name is, he's a very underrated villain. If you don't believe me, go ahead and read some comics where he and Aquaman go at it. Seriously, he's a great villain and he made for a great main antagonist in the Aquaman movie. We'll he and his brother make amends now that their mother is alive? I hope to see some of that in Aquaman 2.
Speaking of Aquaman 2, I have some predictions on how it intends to use Black Manta. Last time we saw him, he was recuperating from his epic battle with Aquaman. The man who found him and nursed his wounds was Dr. Stephen Shin, a supporting character of Aquaman in the comics. Well, it looks like DC is taking him in a different direction in the DCEU. It looks like Dr. Shin has never even met Arthur Curry in the DCEU, but he still has the same obsession with him, similar to his comic book counterpart. It also looks like he'll do anything to track down Aquaman, as evidently seen when he was willing to strike a deal with the wounded Black Manta. From what we've seen in that post-credits scene, it looks like Black Manta is more hellbent than ever for some revenge.
That's why I liked how the first Aquaman set up Black Manta's rivalry with Aquaman. It actually looks like James Wan is taking inspiration from the New 52 storyline, where the enmity between them is more contentious than ever. If you're not familiar with the New 52 Aquaman stories, I highly implore all comic fans to check them out. After reading those and watching the first Aquaman, I have a strong feeling that James Wan will continue following the New 52 storyline Black Manta's quest of revenge against Aquaman. Why does he hate Aquaman so much? Well, if you've only seen the movie, the motivation behind the need for revenge is the same.
In the New 52 storyline, Aquaman first encountered Black Manta when the villain stumbled upon him and his father. The mere sight of Black Manta traumatized Arthur's father so much that it caused him to have a heart attack. Unfortunately, Arthur couldn't save him and Black Manta escaped. This enraged Arthur and caused him to go on a quest for revenge. Sound familiar?
Well, Arthur did manage to track down Black Manta, only he wasn't exactly alone. In a dark twist, Black Manta's father was on a ship in the middle of the ocean and tried to attack Arthur. Arthur, blinded by rage, lashed out and snapped Manta's father's neck. Mere seconds after that, Black Manta himself emerged from the ocean to discover his dead father in Arthur's hand. In that moment, Black Manta's quest for revenge began and he made it his personal mission to destroy Arthur's life.
I like all the little cues that James Wan took from the New 52 comics. He even took the story of revenge and kind of flipped it. DCEU Black Manta didn't unintentionally cause the death of Arthur's father, but he and his father were pirates. Just like Manta said, they were bound to meet eventually. As we all saw, Aquaman didn't kill his father out of rage, but he did leave him to die when he could've saved him. This was more than enough for Black Manta to embark on his revenge quest. And what does he have in mind to get his revenge on Aquaman?
Well, let's look back on what happened. Black Manta tried to kill Aquaman in a straight-up fight with his new Manta suit. He certainly gave Aquaman one heck of a fight, but he failed to kill him. He lost and now he's wounded. As a matter of fact, Aquaman scarred him in the comics in a similar manner. The DCEU Black Manta has apparently lost an eye, while the New 52 Black Manta was lashed in the face with large fish hooks by Arthur. Talk about a cherry on top to incite Manta for revenge, huh?
I think I see where James Wan is taking Black Manta's quest for revenge. What's so similar to Aquaman and his archenemy is their relationship with their fathers. Both men were close with their fathers and are very protective of them. Well, in Black Manta's eyes, Aquaman killed his father, and he can't defeat him directly, so he'll try to hurt him another way. The most effective way to do that is to go after Arthur's father. This would compromise Arthur emotionally and would cause him to become blinded by rage. When the New 52 Aquaman did that, he ended up indirectly creating his archenemy.
In the DCEU, Black Manta won't cause Arthur's father's death unintentionally. I have a strong feeling that he will succeed in killing Arthur's father and this will drive Arthur on a path of vengeance. His anger can cost him his relationship with Mera, his mother, and even his kingship. All Black Manta has to do is kill Arthur's father and he's already won half the battle. The death of Arthur's father will devastate him and he might cross a line where he can't come back from. Plus, it could lead to a fight between them that will probably be even more awesome than the first one.
So those are my thoughts on Black Manta's development for Aquman 2. There's a lot that can happen, but the enmity between Aquaman and Black Manta is a deeply personal one. I really hope James Wan take it up a notch with that element and it can truly put Arthur's heroism to the test.