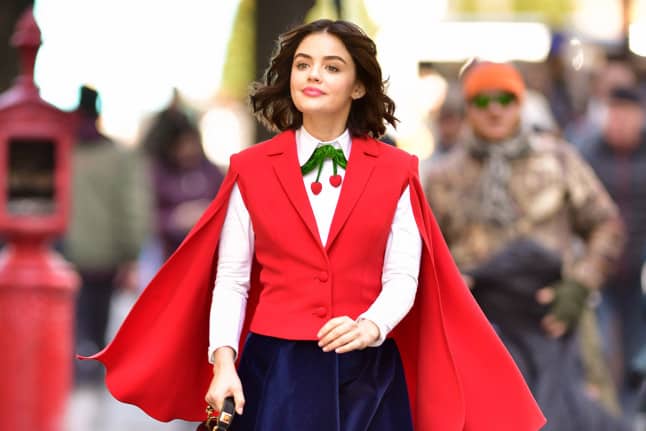 Katy Keene, Riverdale's new spin-off, isn't like anything Archie-fans have ever seen before. Another comic turned into a TV show, Katy Keene is a musical comedy-drama series based on the world-war two era Archie comics character, Katy Keene. Developed by Roberto Aguirre-Sarcasa and Michael Grassi, Katy Keene is the second Riverdale spinoff, following Netflix's Chilling Adventure of Sabrina, which premiered in October, 2018. In the new show, Lucy Hale stars as Katy Keene, an up-and-coming fashion designer living in New York City. Katy Keene follows the professional and romantic lives of four young artists trying to make it in the Big Apple. The show premiered on February 6, 2020 and airs on Thursdays on the CW. The series will include at least 13 episodes.
Who is Katy Keene?
A girl who grew up in a working-class family on the Lower East Side, Katy has now decided to fulfill her artistic ambitions in clothing design. She lives in a big apartment with three roommates: Jorge (Jonny Beauchamp) who has Broadway dreams, Josie (Ashleigh Murray) the singer, and Pepper (Julia Chan) the artist. Nobody's perfect, but Katy Keene herself comes pretty darn close. Whether she's charming VIPs shopping at the prestigious institution called Lacy's by day or designing her own whimsical, glorious clothes on her inherited sewing machine by night, Katy Keene is the vision of the perfect career woman. With big challenges to overcome and even bigger dreams to pursue, Katy Keene and her squad are the perfect cast for a story about following your heart.
How Katy Keene Connects to Riverdale
Katy Keene is a Riverdale spinoff, but where is Katy Keene in Riverdale? Katy Keene takes place in the same Archie Universe as Riverdale but five years after the events in Riverdale take place. While Katy Keene and Riverdale are miles apart both in tone and in geographic location (Katy Keene takes place in NYC while and Riverdale in a small town vaguely located in upstate New York), the eponymous character Katy Keene does make one appearance in Riverdale. In the season four episode of Riverdale entitled "Chapter Sixty-Nine: Men of Honor" that aired on February 6, 2020, right before the premiere of Katy Keene, Katy made her grand entrance into the CW universe as Veronica's old friend in NYC. An aspiring fashion designer, Katy reunites with Veronica while Veronica is in the area for a college interview, and the two old friends re-connect over some shopping and an evening out at the bar. During the episode, Katy also discloses that her mother is ill, foreshadowing her backstory that is revealed further in the first few episodes of Katy Keene.
Another character you might recognize from Riverdale who makes a prominent appearance in Katy Keene is Josie McCoy (Ashleigh Murray), the singer-songwriter who has since chased her dreams out of Riverdale and into New York City. In the new show, Josie is five years older and a natural fit into the group of struggling artists. Josie is able to capture much more screen time now in Katy Keene, as opposed to be shut out of the real action by the other stars on Riverdale.
How Katy Keene is Different than Riverdale
The setting of Katy Keene is much different than Riverdale. Rather than taking place in a small rural town, Katy Keene fulfills every young, twenty-something's New York City fantasy: working in the heart of the city, living in a shabby-chic apartment with all your best friends, and dreams taller than the skyline. Katy Keene also introduces an almost entirely new cast of characters. Excepting Josie, who makes regular appearances in the first few seasons of Riverdale, and Katy, who makes one appearance in season four of Riverdale, the cast of Katy Keene is entirely new. Other differences involve style and color. Katy Keene is a musical comedy-drama television series, so music takes a much more prominent role than the occasional song that appears in Riverdale. The show features a variety of musical performances from covers to originals. Katy Keene also brings in a new color scheme that differs greatly from the dark shades of Riverdale; the bright and colorful style belies the lighter and more hopeful plot. From the blatantly loud clothes to the slight decoration choices, there's no denying that Katy Keene is a more colorful show.
How does Katy Keene Measure up to Riverdale?
With just a couple episodes out right now, it's hard to say how Katy Keene measures up to the original Riverdale series. Even though they are based in the universe, the two series are simply so different. Both Katy Keene and Riverdale are based on comics, but Katy Keene is much more of a fairy tale. That's not a bad thing, especially if hard-core Riverdale fans are looking for something a little cheerier to use to wash down especially intense episodes of Riverdale.
Compared with the scary, crime-filled town of Riverdale, the New York City featured in Katy Keene feels like a gentle and tame little city. Look at the third episode of the season for example, which takes place on Valentine's Day and includes more hearts than you've possibly ever seen before. But a story about New York City doesn't have to be scary or nasty. Katy Keene may be less intense than Riverdale, but it still has conflict and drama, just of a different kind. Filled with enough references to pop culture to attract any young audience and charm aplenty, Katy Keene is less about solving murder mysteries or finding Prince Charming and much more about following your artistic dreams. While this kind of gentler storyline might produce a little less adrenaline in viewers, it's still a lovely, exciting story that needs to be told.
As a glossy drama show, Katy Keene is pretty silly and can therefore appeal to an entirely new audience. But when compared with the wild drama of Riverdale, Katy Keene just seems too normal.