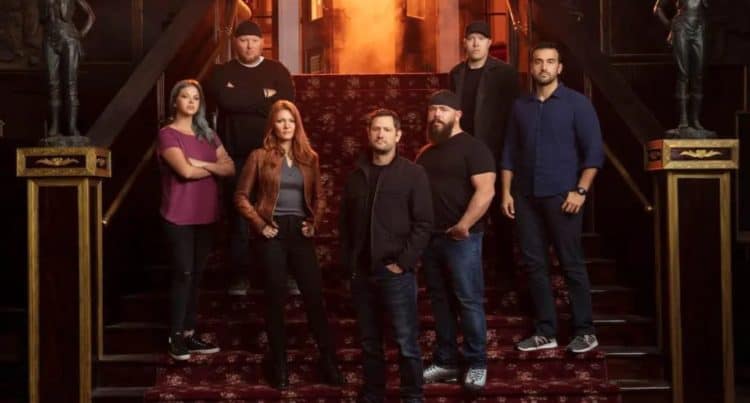 After 12 years of thrilling us (and let's be honest, scaring the bejesus out of us) with its ghostly antics, Ghost Hunters aired for the final time in 2016. 3 years later, it's back from the dead and resurrected with a fresh lineup (albeit one with a very familiar face) and a couple of all-new features guaranteed to keep us on the edge of our seats. But fans of the original series shouldn't be worried about the changes- according to A&E, the reboot will still revolve around the same old basic premise we grew to love over its previous run, and will have enough in common with the old show not to make us feel we're missing out. "Paranormal worked really well for us in the past," Elaine Frontain Bryant, A&E Network head of programming has said. "We've ensured that it's going to please die-hard fans." Well, that's a relief. To find the answer to the question of how does the Ghost Hunters reboot differ from the original (if at all), let's take a look at some of the keys differences between the much- loved original, and the much- anticipated reboot.
A New Line Up
Fans of the original series will be pleased to know the reboot features a very familiar face amongst its lineup of supernatural professionals. Grant Wilson, quite possibly the most famous ghost hunter the world has ever seen, is back at the front of the action. Wilson, along with former co-star Jason Howes, is the founder of The Atlantic Paranormal Society (TAPS) and was a key player in all 230 episodes of the original series. Since leaving the show, Grant has made a name for himself as an author, having published 7 books dedicated to the paranormal. Using his decades of experience in the supernatural, Grant will be leading his new support team in their all-new investigations.
Grant is the only survivor of the original series, so don't expect any of your old favorites such as Adam Berry, Amy Brunt, Haily Hawes, or Britt Griffith to make an appearance. In their place are a brand new team of investigators, including co-lead investigator Daryl Marston (a veteran of the paranormal who's already well known amongst fans of the genre thanks to shows such as American Ghost Hunter); researcher Kristen Luman (a psychology graduate whose specialist knowledge in parapsychology is sure to come in handy during investigations); technician Brandon Alvis (a self-confessed "ghost geek" who developed his interest in the paranormal after the death of his two brothers. Despite his passion for the subject, Alvis remains a skeptic, preferring to be led by cold, hard facts than rely on superstitions);historian Mustafa Gatollari (a 10 year veteran of the field who's passionate about helping people discover the truth about their ghostly experiences); investigator Brian Murray (a founding member of the ghost hunting team, Riverbend Paranormal, who's hoping to put the extensive experience he's gained in over 200 investigations to good use on the show); and last, but not by no means least, Richel Straton, a dental hygienist who may go into investigations with an open mind, but is rarely swayed by anything other than hard evidence.
New Technology
Along with a shakeup in the lineup, another key change that differentiates the reboot from the original is the introduction of new technology, forensic experts, and historical records. The reason for the change? According to Grant, it's to allow viewers to get a real insight into how the team helps people through their investigations. "You saw on the original Ghost Hunters that we helped people, but here you see how that really works," he explained to Cinemablend, adding, "The goal of the original series was (to find out), is it haunted or not? And the goal (of the reboot) is more of helping people. How do we use the information we get from these experiences to help the client and help the entities?"
A Lot More Detail
While the original series gave us a high-level overview of the process, this time around, we can expect to get a much more detailed look into how investigations are conducted… which means a good look at the depths the team will go to understand the paranormal activities they're investigating, and how they then translate this into ways of actually helping people. The fact the new team members all come from "normal" 9-5 jobs means they have a lot of real-world knowledge and experience to fall back on in achieving their charitable mission statement.
Some Things Never Change
One thing that hasn't changed between the old series and the new is what lies at its beating heart. Just like in the original version, Grant and his team are not just looking to track down and explain the paranormal, they're also trying to help people in a very real, and very necessary, way. "We go there to help people, not to find ghosts. The main directive of this show is to head that direction," newcomer Marston explained to Comic Book, with Grant chipping in "When it comes to helping people, it is always a unique story. It is always a unique situation and you never get tired of helping people". "We are bringing a lot of focus on helping people and the humanity of what we are doing," he went on. "I think that is what people are thirsty for. You can only do jump scares and creaky places for so long before people burn out".
What impact the changes will have on the success of the reboot, only time will tell. That said, given that its original incarnation was a ratings juggernaut, we predict great things. With A&E launching several more paranormal shows according to The Hollywood Reporter, we can look forward to 2 further reboots, 'Psychic Kids' and 'Celebrity Ghost Stories', along with two brand new shows focused on the paranormal), our curiosity in the supernatural clearly shows no sign of abating… and with such quality docuseries as Ghost Hunters feeding our appetite, we can't imagine it ever will.