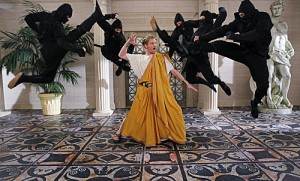 CBS' Monday night comedy block is all new tonight, which means a new episode of How I Met Your Mother.
In tonight's episode, titled "The Broath", Ted and the gang are shocked when Barney and Quinn announce that they want to move in together, which actually leaves Ted and Robin fighting over who should sublet her apartment. But the gang decides to try and break Barney and Quinn up, thinking that they're moving far too fast.
Barney is shocked when he realizes what his friends are doing and zeroes in on Ted, accusing him of breaking the a "broath". To illustrate the importance of the broath, Barney tells a bit of history: he plays Julius Caesar, with Ted playing Brutus. Caesar is shocked when Brutus swears a broath and then betrays him, sending a group of ninjas after him. Clearly Barney is taking some liberties with history.
Watch a sneak peek below for tonight's all new episode of How I Met Your Mother, airing at 8:00 p.m. ET/PT on CBS.