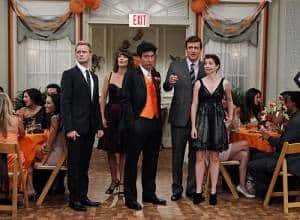 How I Met Your Mother returns with a special one-hour season 7 premiere tonight. In the first episode, Barney prepares for his wedding to a mystery bride. He and Ted reminisce about Punchy's (guest star Chris Romanski) wedding, and when Marshall and Lily announced that they were having a baby. Robin is also very conflicted in the season premiere as she debates whether to tell Barney that she has feelings for him. Co-creators and executive producers Carter Bays and Craig Thomas wrote the episode.
The second episode, beginning at 8:30 p.m. ET, features Martin Short as a guest star. Marshall will get the job of his dreams in the episode and Short will be playing Garrison Cootes, his new boss. But after Marshall gets the job offer, he's worried that it might be rescinded once the company learns about certain videos he made in his past. Ted, meanwhile, debates about who to bring as his date to the Architects Ball.
Below is a trailer and three sneak peeks for the one-hour premiere of How I Met Your Mother, airing tonight beginning at 8:00 p.m. on CBS. Check out Robin and Barney busting a move at Punchy's wedding in the second video.