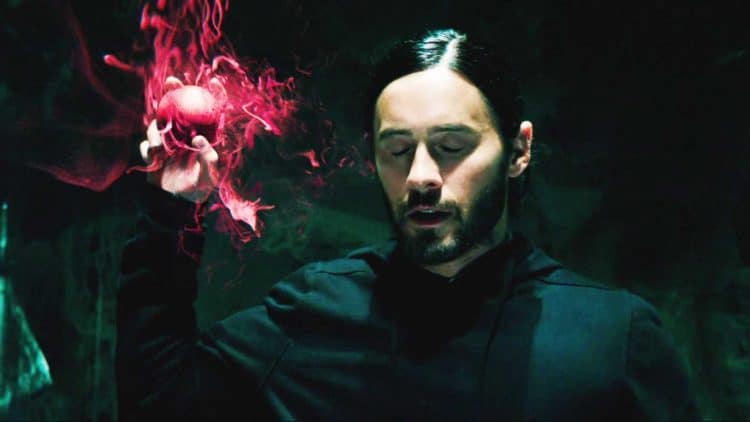 One of the upcoming comic book movies that has me more curious than excited is the Morbius movie starring Jared Leto. When I first heard this movie was announced, I just wondered if it was the right move. First of all, does this particular character comic book character even deserve his own solo movie? The average comic book fan might not even know who he is, but all you need to know is that he's pretty much a vampire. On the surface, he doesn't sound like an interesting character, but he does have one thing going for him.
If you don't read comics, but like the old animated Marvel shows, you probably caught Morbius in the Spider-Man series. I'm talking about the truly best one that was basically the basis for the Marvel animated universe. Do you know how many other Marvel characters had appearances in that show? Quite a few, but Morbius was always a rather underrated Spider-Man villain. In the episodes where Spider-Man faced him, it almost turned into a horror show. Watching that as a kid was pretty scary, but as an adult, I see more of a tragic character.
The most heartbreaking thing about Michael Morbius (hence the name) is that he was desperate for a cure. In the old Spider-Man cartoon, you couldn't expect a vampire to sink his teeth into someone's neck and suck their blood. The cartoon solved this problem by having Morbius drain blood plasma from his victims by using his hands. A pretty smart way to toned down the violence for a kid's show, but what struck me with the character is his love for his girlfriend. She never gave up on him, and neither did Spider-Man, but finding a cure was next to impossible for Morbius. In the end, however, he decided to use his vampiric powers for good by helping Spider-Man defeat a villainous vampire queen.
As I said, he is a very tragic character. I guess I find a solo film for him difficult because it's hard to see him as a hero. The character looks like he comes right out of a very violent horror movie. He certainly looks cool, but having him take center stage as the protagonist of his own film sounds odd to me. Then again, I had similar feelings about the 2018 Venom movie and I ended up enjoying it. I want the Morbius film to be good, especially with Jared Leto attached to it. I mean, this guy goes from playing the Joker in the DC Cinematic Universe to playing a vampiric anti-hero. That sounds very frigging cool to me.
So it's been a while since Sony released the first trailer for Morbius and there were some things that grabbed our attention. Let's start with the big elephant in the room that we saw right at the very end. Michael Keaton showed up, wearing a very familiar-looking prison suit. Where does that look familiar? Well, in Spider-Man: Homecoming, his character, Adrian Toomes, was arrested and imprisoned at the end. So what does his appearance in the trailer mean for the Morbius movie? In fact, let's back up even further. Remember that shot when Jared Leto was walking down an alley and we saw a picture of Spider-Man hanging on the wall? The weird thing about it was that it had "murderer" graffitied on it and the Spider-Man in the picture wasn't Tom Holland's.
Based on the looks of it, the Spider-Man on the alley poster is Tobey Maguire's Spider-Man. Whoa, now things are getting very weird. In what cinematic universe is the Morbius movie set in? Before we get far into the speculation, Tyrese Gibson, who will be playing FBI Agent Simon Stroud in the movie, gave us some "confirmation". In a recent interview, Gibson was specifically asked if Morbius was set in the Marvel Cinematic Universe. Gibson responded with a quick and simple "yes" and when he was asked a second time, he repeated with the same answer. And to be clear, the interviewer specified by asking if it was in "Avengers world" and Gibson still responded with a quick yes.
Okay, now things just keep getting more confusing by the minute. If you take Gibson's answers seriously, you might not want to get too excited just yet. Sony themselves debunked the rumors, although they have stated before that they plan on connecting their films to the MCU. How are when are still up in the air, but Spider-Man: No Way Home could change that. Or perhaps Venom: Let There Be Carnage will be the start of the merger. I don't know, but I do know that Morbius can somehow connect to the MCU.
Why? Well, if you've been keeping up with Loki, they've already hinted at the Multiverse. Did you see the latest episode? We got an alternate version of Loki. If that can happen, then Tom Holland's Spider-Man can likely run into Tobey Maguire's Spider-Man. We all want it to happen, but how can Morbius fit into the MCU? If that Spider-Man poster in the trailer means anything, it's possible Morbius takes place in the Sam Raimi universe. I've been hearing some rumors that Sony intends to have it set in the Raimi movies, but before Spider-Man 3. In other words, the dreaded Spider-Man 3 never happened. Would any fans have a problem with that? I don't think so, but let's think about Morbius being connected to Sam Raimi's movies.
The Morbius film has him running around trying to cure his illness and he becomes a vampire. He then becomes a fugitive and has a sense of morality, but has that thirst for human blood. It would make sense if Tobey's Spider-Man wasn't hunting him, as long as he wasn't preying on humans in the dark streets of New York. Eventually, I think they can still meet. Heck, it's all probably in the same universe as Venom. Imagine if Tobey's Spider-Man acted as if he saw the symbiote for the first time? I think that would confirm that Spider-Man 3 has long been forgotten. You'll hear minimum complaints from the fans.
But what are your thoughts, Marvel fans? Do you think Morbius will be connected to the MCU? Personally, I think Tyrese Gibson might have misspoke or misinterpreted the question. However, I'm still very curious as to why Michael Keaton is in the movie. Maybe his Vulture crossed over into the Sam Raimi Spider-Man universe? All interesting theories, but it just makes my curiosity for the Morbius movie even greater.