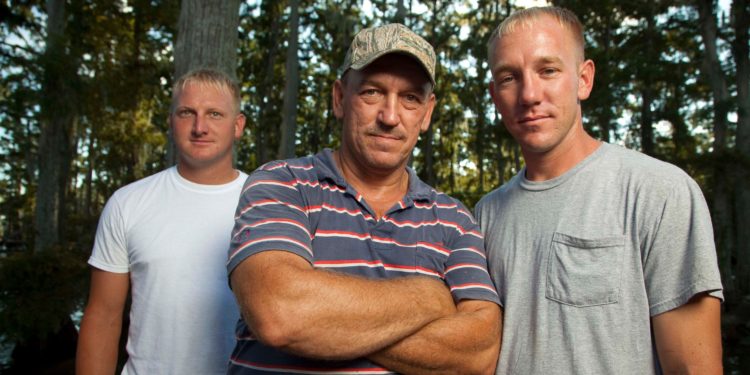 Depending on what kind of TV you're into, you may have never heard of the History Channel series, Swamp People. Although the show isn't for everybody, it's built a dedicated fan base since its debut in 2010. Although the show's cast members, who work as alligator hunters, are used to living relatively modest lives their financial situation has changed drastically since being on the show. While they may not make as much money as people on more popular TV shows, they've definitely be able to command a pretty penny. But just how much does the cast of Swamp People make? You may actually be a little surprised. Keep reading to find out.
Troy and Jacob Landry
Troy is one of the last remaining cast members who has been on the show since the very first season. Although they never set out to be reality TV stars, that's exactly what they've become and they seem to be enjoying every minute of it. During their time on the show they have become well-known for their expertise and they've also become fan favorite in the process. Needless to say, they are paid handsomely. According to Business Insider, they each earn $25,000 per episode. At this point both of their net worth has reached into the millions.
Willie Edwards
Willie Edwards has been a cast member on Swamp People since season one, and he's one of the only people left who has been with the show since the beginning. As a result, he has definitely been able to make a lot of money during his time on the show. There's no information on how much Willie makes for each episode, but Swamp People Cast reports that his net worth is currently around $500,000 with most of that money being thanks to Swamp People.
Terral Evans
You know what they say, it pays to have friends in high places and Terral Evans and Troy Landry's friendship has been beneficial to them both. The two have been friends for many years and Terral has lots of experience hunting gators and working with other animals. The exact amount he makes from being on Swamp People doesn't appear to be listed anywhere on the internet, but his current net worth has been reported at about $1.5 million. Although his entire fortune isn't due to Swamp People, a good portion of his money comes from the show.
Daniel and Joey Edgar
Although Daniel has been in the gator hunting business for years, he's a relatively new addition to the Swamp People cast. He just joined the show during season seven which means he probably doesn't make as much as the people who have been on the show for longer. According to Swamp People Cast, Daniel makes $10,000 per episode. While that may sound like a lot, that's significantly lower than the stars of some other reality shows. For example, the Kardashians were able to bring in an estimated $500,000 per episode for their popular series, Keeping Up with The Kardashians.
Daniel's son, Joey, has also been on the show since season seven but his salary is unknown. There's a good chance he makes something close to his father.
Chase Landry
As a member of the Landry family it goes without saying that Chase is no stranger to being around alligators. Unlike Troy and Jacob, however, Chase has not been on the series since the beginning. He joined the cast during season three and it didn't take long for him to become a fan favorite. Despite his popularity, however, his salary may not reflect that. Reality Show Casts revealed that Chase's salary is only around $3,000 per episode.
Ashley Jones
Ashley may be a new comer to the Swamp People world, but she's already established herself as a skilled hunter. Everyone who has gotten the chance to work with Ashley has been impressed by her hunting abilities and she's been given the nickname 'deadeye' for her exceptionally accurate aim. Since Ashley just joined the cast for season ten, she probably hasn't been able to start commanding a huge salary just yet. Reality Show Casts reported that her net worth is only around $50,000, but if she sticks with Swamp People that probably won't be the case for much longer.
Swamp People Season 12
COVID-19 caused production delays across the entire entertainment industry, and it looks like Swamp People was one of the shows to be impacted. It's been over a year since season 11 premiered, and season 12 won't be hitting the airwaves until February 4, 2021. Although the wait in between seasons was a little longer than usual, viewers can rest assured that Swamp People will be back.