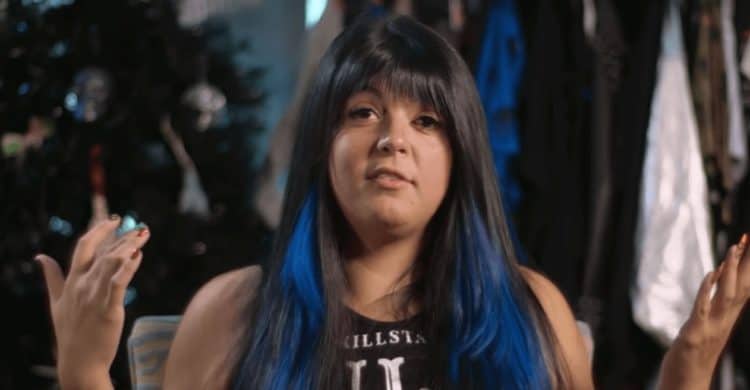 Most, if not all ladies like getting their nails done. Nail art takes your nails on to another level by incorporating different designs and bringing out the artistic side of you. The nail business is a booming one and the star of the reality show Unpolished, Lexi Martone has set the bar high for other nail artists. Fans were shocked upon hearing that the cost of getting their nails done by the reality TV star would mean they dig deeper into their pockets as Lexi Martone doesn't come cheap.
What is the show Unpolished all about?
Lexi Martone is a reality TV star in the show Unpolished which follows the everyday lives of Lexi herself, her sister Bria, their mother Jennifer and their grandmother Foxy. The show looks into the relationships of the 2 sisters and the drama that comes with every family and secrets within the family. Lexi Martone's father "Big Mike" Martone has made appearances in the show as well. It is however unclear as to the occupation of their father "Big Mike". The show has been approved for the first 6 episodes for the first season to evaluate its popularity among the masses but fans seem to be receptive to the show and it could return for a second season. With the show slowly gaining popularity, it is becoming increasingly difficult to secure a spot with the nail tech or even her sister.
So how much does Lexi Martone charge for nail art?
The average nail art prices range from about $20 to $60 for those who are looking to get the gel acrylics. However, nail tech Lexi Martone isn't your usual nail artist. She has worked on nails of various celebrities such as Katie Holmes and Jennifer Lopez and this has had its perks including propelling her salon and in general her brand to stardom. Lexi's salon website states that any new client should make a non-refundable deposit of $100 first if they want to have any service done. They provide a 24 hour wait time for you to reschedule or cancel the appointment and if you are still a no-show, your appointment gets automatically canceled. For a gel manicure, you would have to part with about $115 or even more depending on the gel to be used.
The acrylics are the most expensive in this nail salon as you will need to fork out a hefty $300 or more for a full ombre acrylic set. According to distractify, Lexi charges her services based on the difficulty of achieving a specific design, the time taken to achieve it and the general cost of the materials that she used for the design which include crystals and acrylics. Some of her clients, as she says, have various requests such as having every Powerpuff girl on each nail to themed nail designs such as Disney themes. However, the most inspiring nail design she claims to have ever done was of a picture of a sonogram for a woman who was due for labor anytime and wanted to get the sonogram on her nails.
According to Nails Mag, Lexi starts out with a basic price for basic services such as gel manicure then builds up on that and charges each nail individually depending on the design that the client needs. She then adds it all up and provides a total at the end. She uses 3D embellishments and designs and also includes charms, rhinestones, and crystals which help to bring out the client's requested design and from the feedback she has received from her fans it seems that the final outcome is usually worth every dollar spent.
Lexi has been quoted as saying that art was a deal-breaker for her as she had low self-esteem for a long time. This however changed as soon as she participated in a nail artistry contest where she managed to get placed second. Suddenly everyone wanted to procure her services and she knew she had to make some changes including losing weight and becoming more accommodating to people seeing as being a nail technician involved a lot of engagements with the clients on a one-on-one basis.
About Lexi Martone
Lexi is a 26-year-old nail technician in Long Island who wears many hats. She made an appearance on Food Network on the show Bakers vs. Fakers and worked alongside Buddy Valastro on his YouTube channel where she exhibited even more artistic designs onto the cupcakes and got offered her very own baking show, an offer which she turned down. She also partook in the Christmas Cookie Challenge that also aired on Food Network. She also had a stint in the fashion industry but soon realized it wasn't her passion and left it to venture into the nail art industry, a decision which seems to have bore fruit for the young entrepreneur. She is also looking to make her own customized sneakers which will see her broaden her career path as well.
She owns a salon in Long Island called Salon Martone which she runs alongside her 23 years old sister Bria who is a makeup artist and hair colorist. Her grandmother Foxy also works in the salon and cuts and styles hair while their mother Jennifer mans the salon at the front desk ensuring that the business runs smoothly without hitches. The salon opens five days a week running from Tuesdays to Saturdays. They don't open on Sundays and Mondays as well. Lexi's various nail works have been featured in various magazines such as BuzzFeed and she has also collaborated with celebrity stylists such as Jay Manuel and Donald Drawbertson.
Conclusion
The show Unpolished has given this Italian family a platform to grow and it is quite inspiring to see young female entrepreneurs reaching for greater heights. Despite the fact that their prices are insanely high even for a haircut or makeup by Bria, the clients are always assured of getting the design they requested since they'll be paying for a job satisfactorily done.