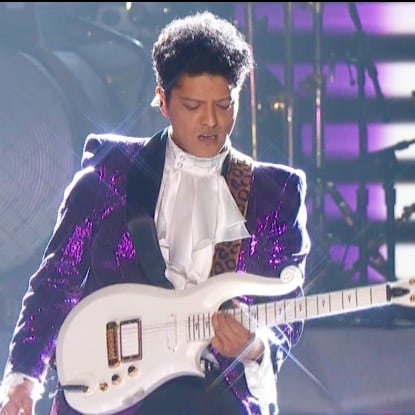 The night began and ended with Adele. That would have been enough for today's audience seeking solace in music during difficult times. This year's Grammy Awards could probably be best equated to the perfect homemade chocolate chip cookie just out of the oven. The expectation was high, yet the actual moment is something you want to sit down and savor. This even includes moments which were less than perfect, because you can appreciate the effort and persistence in them. Live performances are no laughing matter, even though James Corden makes it look easy.
Adding something new to his resume was this year's Grammy host James Corden, who brought a new flavor of hilarity and fun to the party. Taking over hosting duties from LL Cool J, Corden kept the night moving and focused on the artists. Who didn't love his shout-out to Ellen DeGeneres' 2014 Oscar selfie moment, melded with a 'Carpool Karaoke' to Neil Diamond's "Sweet Caroline"? If anything Corden predicted the night in his opening rap when he said "Perfection is lost", because the night wasn't about being perfect (though some certainly were). It was about the honest power of music.
As she did for her Lemonade album, Beyonce went above and beyond a musical performance. She created a stunning, poignant, visually effective story of spiritual connection. And she did it all pregnant. She didn't need to dance like her life depended on it, she didn't need to amp up the crowd. Dressed in headgear which a few close friends equated to a halo befitting the likeness of the Virgin Mary's majesty, Beyonce captured the attention of the audience simply by singing from her heart. It was a tribute to the living, and those yet to be born, which she summarized while accepting her award for Best Urban Contemporary Album.
Other moments dedicated to honoring music lovers for the future included performances which took strong political stances. These included Katy Perry ending the first live performance of her single "Chained to the Rhythm" against the backdrop of the U.S. Constitution, and even more notably, Busta Rhymes and A Tribe Called Quest's very direct message to the President. A tribute which ran down the middle was dedicated to the Bee Gees, whose sole surviving member Barry Gibb sang along to the songs which made him and his brothers household names. It was a reminder that the songs we sing, and the ones our parents or grandparents sing, can be the same song, unified or strung together by an indelible legacy. Speaking of indelible legacies…
The arts are celebrated because of their ability to live past our own mortality. Because so many great artists passed away in 2016, it was important for the Grammy's to acknowledge everyone's lasting legacies. John Legend led this year's In Memoriam portion of the program with Cynthis Erivo to the Beatles' "God Only Knows" to honor the unfortunately large quantity of artists lost. Sharon Jones was honored by her own musical family, the Dap-Kings, with Sturgill Simpson. David Bowie was honored at last year's Grammy's, but still had his moment with several posthumouse Grammy wins, including Best Rock Song. Perfection just about summed up Adele's tribute to George Michael and Bruno Mars' to Prince. That includes Adele's emotional reset, as it showed the depth of the connection the singer was feeling to the late Michael. Bruno Mars was so on par with the late Prince, he seemed to bring him back to life for a night. Why take my word for it when you can watch for yourself?
https://www.youtube.com/watch?v=ThAo3p1Ymsk
Adele was the big winner of the night, and if you were paying attention on social media, there were mixed feelings whenever Adele's "Hello" album was up against Beyonce's "Lemonade". The spirit of the night was unity and respect in music, which Adele took to heart as she dedicated her win for Album of the Year to Beyonce. If tributes was the primary theme of the awards ceremony, female empowerment and appreciation was a very close second. Some may believe the show focused too much on nostalgia, some may think the show didn't fully seize the opportunity to take a strong political stance the Hollywood way, but there was one thing you couldn't say about this year's Grammy's. The word boring just doesn't fit.
Grade this year's Grammy Awards in the comments.