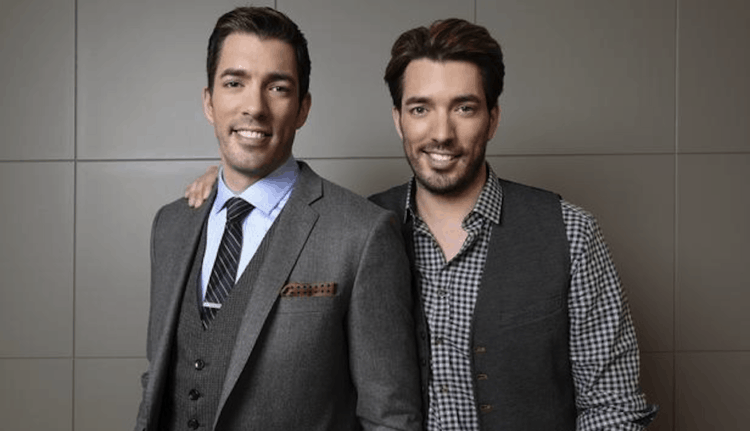 At one point the Property Brothers weren't really a known commodity, but if you can believe it, and it's not too hard really since if you look at their track record over the years they have been seriously growing when it comes to their popularity and their impact on HGTV. Property Brothers has only been the tip of the iceberg for the brother since quite honestly it's what has gotten them noticed by the most people. But it's not the only show that they've been banking on and it's not the only project that they've been attempting to use to make bank, as the brothers have said. At this point they're up to making about half a billion dollars a year and as you can imagine they're both stoked. Some haters might state that of course they are, they're up there now where less than 100 actors can actually boast about such riches. But all in all, like most people at this level they have worked to make their money and it's easy to find out that they didn't always have this kind of bankroll building as it has.
In fact if you look at Drew's past he was adamant about making his way in acting at first, but after high school he headed to Vancouver to make his way into stardom and found out the hard truth that becoming an actor is not as easy or as assured as he might have thought. But after racking up about $140,000 in debt he decided to make his way back to his roots and started house-flipping with his brother Jonathan. From that point things just started to roll along as the brothers began to get into their whole house-flipping endeavor and find their way into the spotlight. It's funny to think about but the show actually appealed to a female TV executive as a show that starred two young hot guys in tight jeans renovating a home. That seems a bit sexist in an era when men can't say the same thing without being called out for it, but oh well. The brothers no doubt shrugged and said that they would sign on the line that is dotted, and here we are.
They've also gone on to create five other shows on HGTV, formed their own production company, set up a furniture and home decor line, and have even published a children's book. You can easily say and believe that they've been quite busy and have been earning just about every dollar they've got. To say that they're worth the effort is kind of a subjective matter according to whoever views the brothers and what they might think of the shows. But if you can be objective and just look at this from a success point of view they have been ascending the ladder of financial success for a while now and have been thoroughly enjoying themselves for much of the time.
They've even got another show coming out eventually, Property Brothers: Forever Home, which will be arriving this coming May. They're also developing a sitcom that will be coming to Fox, and they've also been able to guest star on a few different shows in their time on TV. They're certainly making a case for how they've earned this kind of fame and fortune since they haven't been sitting still all that often and have made it possible for many upon many people to see them here, there, or anywhere. How you feel about them doesn't really matter at this point since they've created a following that doesn't seem to be going anywhere and will only continue to grow.
When you think about it, half a billion dollars is a number that many of us will never see in our lifetimes, honestly, since we're either happy with where we're at and don't feel the need to push this hard, or we just don't have the kind of ambition that the brothers have exhibited and likely don't have the experience. The one thing that people need to remember about these guys is that they do actually do the job that they're shown doing on TV. They might not do the manual labor, or as much of it, as people might think, but quite honestly they still have the experience and the know-how when it comes to the job and have shown many upon many people that they are the experts that they appear to be and they're worth the money that is invested in their shows and fame.
What the future might hold for them has already been partially revealed, but what else they might do as their careers continue to build upward is hard to say since the sky is no longer the limit, and in fact it hasn't been for a while. It's just the view.