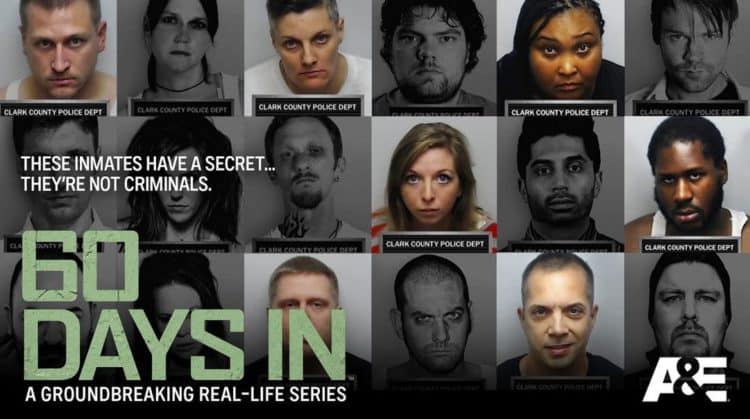 When you're looking for gritty reality or crime shows, the best place to turn is A&E. With its extensive docket of law-related shows and true crime documentaries, it's a no-brainer when you're feeling like learning more about criminals or even the folks on the other side of the gavel. One of the most stunning and surprising shows to come out of A&E's law and crime collection is 60 Days In. The show, now in its fifth season, shows viewers a reality-based view of prison life, but there's a big twist. The stars are real people who volunteered but haven't actually done anything wrong. Over the last several years, the show has gone through some changes, though it has remained true to the original intent. We'll share how the show 60 Days in has evolved since season one.
The Biggest Changes
Unless you've been keeping up with every aspect of the show, then you might be surprised by what's evolved the most. It goes without saying that the people who become undercover prisoners are changed for life by their experience on the far side of the bars. Seeing what can happen to anyone who falls into the wrong situation is a stunning way to discover what prison life does for and to people when they're legitimately locked up. The people, rather than the show itself, have made the most changes.
The faux-inmates on the show have an advantage that real inmates don't. They can 'tap out' if things get too rough. A password or signal they give will result in immediate extraction. Plenty of the show's volunteers have taken the early exit, and it's not hard to figure out why. Being in jail, even for a TV show, changes how you see the world. It limits your choices and interactions and forces a person to do things they never thought they'd have to think about. Former inmate volunteers have changed their career paths and other aspects of their lives as a result of their time in lockup.
Shocking Results
The reality stars who go to jail aren't the only ones who have made incredible changes. After the first season, Indiana's penal system began to change. The result of having such an in-depth look at what was going on inside was different than prison officials expected. Some corrections officers were fired because of things the cameras and volunteers saw. More than that, the way people were treated, and the way inspections are done have also changed as a result of 60 Days In.
Yes, ultimately, the show is entertainment, and things like ratings matter. Editors cut out the dull parts and try to make a cohesive and exciting story out of all the footage, but overall the project is visionary and incredibly real in a way much of reality TV can't touch. However, the audience includes wardens, corrections officers, lawyers, judges, police, and former prisoners, along with everyone else. Getting an authentic look at what's going on inside a prison is changing the dialogue about what prisons are and what they do to people in America.
Changes in the Show
In the first season of 60 Days In, they didn't check people's backgrounds as extensively as they would in subsequent seasons. No one on the production team or HR department expected a reality star and actor to get into the cast, but it happened anyhow. Robert Holcomb had been an extra in a movie years ago, and a cast member on another reality show just before getting cast for 60 Days In.  Holcomb would later go on to tell the media that his role was to 'entertain' not enlighten and that the show had cut his scenes together to create more of a sense of danger than ever indeed existed. We can't say we're surprised that a TV show cut scenes together to create an engaging and entertaining series of episodes. As a result of Robert's participation, they've worked harder to be sure of who the show is casting. Though the show has also been more open to media-friendly faces like Mohammed Ali's daughter Maryum.
Evolving Undercover
In the first season, participants simply went in to learn what they could and were debriefed at the end as part of the show. However, by the time season, five rolled around, the cast had assignments. Each person who went undercover was asked to focus on a particular of jailhouse life like smuggling, or gang interactions. While that is a subtle and somewhat natural progression as the showrunners and country learn more about what life is like in prison, it is a change nevertheless.
Location
It's no secret that prisons have had documentaries filmed inside before. However, after putting the spotlight on Indiana for long enough, season five focuses on Pinal County in Arizona. Doubtless, after a while, even the savviest undercover shows get noticed if they try to operate in the same limited area for a long time. The Florence (Arizona) prison is known for being incredibly dangerous, especially to the corrections officers who work there. Though everyone inside knows something is being filmed, very few people are privy to the real story. Instead, they were told that the show was a documentary about prisons near the border. With luck, the latest season will help shed light on the problems inside a new prison, and help them to facilitate the necessary changes to improve the inmates and officers' lives.
Unchanging
While the details, like cast and location, have changed, and the people who are affected by the events are absolutely changed, the show itself hasn't made any substantial or glaring format changes. 60 Days In remains true to the original goal, which is to enlighten people everywhere about what's happening inside American Prisons. There's a purity of intention and clarity of purpose to the show that remains undimmed even after all the darkness we've seen.
Final Thoughts
Some people will always question whether a reality show is faked or not. That's a good thing, and sensible, given the staged-show scandals that still happen regularly in the genre. However, in a world of uncertainties, this show is forging a clear path forward while sticking to its guns (no pun intended). We're looking forward to every episode, and hopefully, there will be many more seasons to follow, bringing ever more scrutiny to the prisons of the USA.