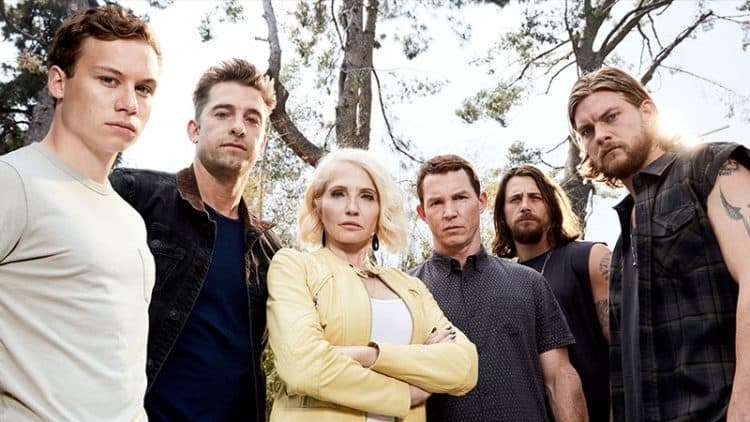 Animal Kingdom is a wild ride to be sure. If you're expecting to hear about Disney or a show from your youth that had actual animals on it, then you're in for a surprise. This dark, crime-family-centric series is based on a 2010 movie of the same name from Australia. Similarly, the film is based (incredibly loosely) on real crime families living in Melbourne Australia in the 1980s. Though the American TV version is based in L.A. and adds in more modern elements like current technology and extreme sports, the premise is the same.
Spoiler Alert- It's ALL Spoilers
In the Beginning
The first season of Animal Kingdom introduces The Cody Family. The matriarchal and intensely loyal crew of Cody's are criminal to the core. The story begins with Smurf bringing her grandson J into the family life. At the start, he is coming to terms with being part of a crime family. Compared to his former home life with a drug-addicted mom, it seems like a great place to be… for about a minute until he realizes how deep the family rabbit hole goes. Add to that a detective with a chip on his shoulder, and you have one hell of a California style (crime) family drama.
Janine "Smurf" Cody, Played by Ellen Barkin– She's dynamic, controlling, manipulative and this granny runs the show. We'd be hard pressed to think of another TV crime family matriarch who rules with an iron fist the way she does, at least in live action. However, Ma Beagle from the old Ducktales cartoon ran a brood of unruly boys, and took no guff about her rules. Of course, if someone were to drop an anvil on one of the Codys, it would not end in cartoon stars and handcuffs. Animal Kingdom is a whole lot more gritty than cartoon animals have ever been.
Barry "Baz" Blackwell Played by Scott Speedman- He's adopted and tends to butt heads with Smurf. In the beginning, he shows some apparent daddy issues, and fans wonder if he's not possibly J's dad. Whatever the case he's a sort of co-leader and heist planner for the Cody boys. That makes him a pseudo-Cody.
Andrew "Pope" Cody, Played by Shawn Hatosy– The creepy son. He's what you might call lost and searching. Or you might call him more than a little psychotic. As the oldest Cody son, he's just returning from doing three years in Folsom State Prison. He's happy to be home.
Craig Cody Played by Ben Robson- The middle Cody boy likes drugs and anything high risk. Extreme sports, causing trouble or pulling jobs to pay for his other hobbies, he just wants to have 'fun.'
Deran Cody Played by Jake Weary- The youngest Cody is a little different from his brothers in more ways than one. He was a competitive surfer at one point for one thing, and he (eventually) opens a bar as a legitimate side business for another. Also, unlike the rest of the family, he's gay, which means he has a whole other world of trials and tribulations that his family doesn't understand.
Joshua "J" Cody Played by Finn Cole– After his mother, Julia dies in front of him from a drug overdose he's uprooted and moves in with his grandmother and uncles who he hasn't seen since he was very small. Most of the time, J is angry and trying to find the right path for himself. He's honest and trustworthy, at least compared to everyone around him.
Season 2
The internal strife rules season two, and the boys find themselves wrapped up in becoming involved with a mega-church they plan to hit. The second season also sees the boys flip the switch. We learn more details about the job that sent Pope to jail. After a job goes south, the Cody boys see their chance to wrest control from their over-controlling mother. It turns out that running small jobs without mummy-dearest isn't as easy as the boys think. All the beautiful beach and pool-side backdrops add to the eternal-summer atmosphere of their not-always glamorous criminal life.
Season 3
J definitely gets his brains from his grandmother. He's arguably the smartest character on the whole show. While Smurf herself remains the most engaging and intriguing, J is the child of her heart. Unfortunately, brains aren't everything, and he lacks the experience the rest of the family got their whole lives. Still, with the matriarch in jail, someone has to run the family business, and J is the one for the job. He's come a very long way from the poor kiddo sitting on the couch watching his mother die.
Season 4
Sadly you'll have to wait to see how all the Cody Drama plays out. The season began in May, but you can catch up before the season ends. We don't want to spoiler everything, but we'll say that Smurf is back in charge again, and it doesn't sit well with everyone, or anyone really. AFter their taste of freedom, the Cody boys are all too happy to do their own thing with or without her permission. The family dynamic has changed for good, but through it, all the Codys still manage to stick together in their own odd way. We'll be watching the rest of the season and waiting with bated breath to see when they announce season 5.
Final Thoughts
In the tradition of Sons of Anarchy and The Sopranos, this fantastic show gives us a look at the lives of the wild and dangerous in a way that's not so far from the truth. Obviously, the Hollywood version has more makeup and perfect plot points than any real-life story could, but it makes for a believable thrill ride we wouldn't want to go near in reality. Good crime family shows are few and far between. Fans can't wait for the next episode, and we'll probably see plenty more of the Cody's before they're through.
If you haven't seen the show yet, don't let our spoilers deter you, there's plenty more action to behold. The beautiful Cali beaches and plenty of beach bodies to distract and belie the serious elements. If you're seeking the perfect summer show to heat up your nights, it doesn't get much better than Animal Kingdom. This one is definitely going on our TIVO binge watch hot-list.