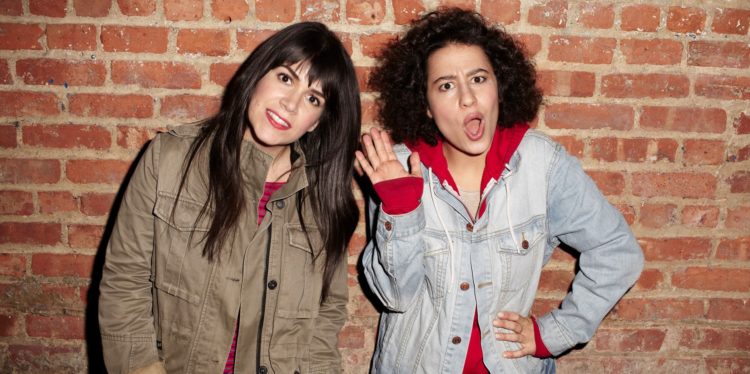 "Broad City" is yet another show that takes place in New York City. You'd think that the Big Apple was the only city in this great big country judging by how many shows are set there. It's been glorified quite a bit over the years in movies, on TV, in literature and even pop culture. OK, it may not be the fantasy world where dreams come true like in "Sex & the City" but then again neither is it quite the cesspool of drugs and violence that it's depicted to be in popular shows like "Law & Order" and "Blue Bloods".
A Friend-Space
"Broad City" depicts it as neither one of those but instead as more of a "friend-space" like the mainly way millennial residents are actually experiencing it. The New York of Ilana Glazer and Abbi Jacobson isn't filled with glamorous glittery Gatsby-type parties nor is it defined by any epic Mafia-type wars. What it is filled with is smelly subways, insufferable roommates in small cramped apartments, and days filled by working at horrible menial jobs.
An Ongoing Friendship
So, from Season 1 thru Season 4, "Broad City" has stuck with its essential core storyline but then evolved by building stories that are increasingly intriguing and structuring some incredible scenes around the mystique of what it's really like being a New Yorker. Yes, the show is definitely effective when it comes to the exploration of all of the nuances of Ilana and Abbi's ongoing friendship and it manages to pull plenty of humor from some pretty dark places but, in the end, it is centered on the two gal-pals' persistent and very deep love for each other. In a sense, it's one part murder-mystery and one part rom-com (platonic, of course).
Genuine New York Feeling
Season 4 of "Broad City" brings us a real sense of the genuine New York with the season premiere opening with Ilana and Abbi chasing a subway train. The scene is complete with MetroCard malfunctions, some well-dressed guy puking right in front of them, and one of those classic desperate squeezes to get inside (at the very last minute) the train as the doors are closing. The good thing about this season is that it's become a much more stylistically inventive show as compared to the first season.
Trump is a Dirty Word
In "Broad City", both Glazer and Jacobson are painfully aware of what New York City has most recently contributed to American life. What is that? Well, that would be President Donald Trump. In the third episode of the season, Ilana ends up visiting a specialist to help her deal with some orgasm issues, which she attributes to witches. With the help of the therapist, she comes to realize that her sexual problems are not caused b y witches but by Trump. And, it's actually pretty funny how they bleep out his name as if it were some kind of four-letter-word profanity.
Robust Character Sense
Broad City's characterizations are so genuinely confident about the dynamics of its interpersonal relationships that, unlike some other comedy shows, it seems always to be quite grounded in its robust character sense. In fact, in spite of the Abbi and Ilana characters being so amazingly complex, they're also quite consistent at the same time. Not an easy feat for a TV show.
Spanning the Seasons
After spending a great deal of time with the characters in this show, we have come to the point where it's heartwarming to see Ilana and Abbi nostalgically reflecting, in their Series 4 final scene, on all of the time they've spent together. If you've been watching them evolve from the beginning of Season 1 until now, it could be way too easy to start getting all swept-up in that poignant moment. Why, you may ask? Well, because "Broad City" has been one of those amazing shows that has invited us in to see the characters and situations evolving season-by-season in spite of the fact that their lives were kind of messy. And, we thoroughly enjoyed every intimate little bit of their friendship as they made their way together through the streets, subways, and pitfalls of the Big Apple. Even those who only saw season 4, or even just a few episodes of this great show, we'll miss the girls and their many adventures.