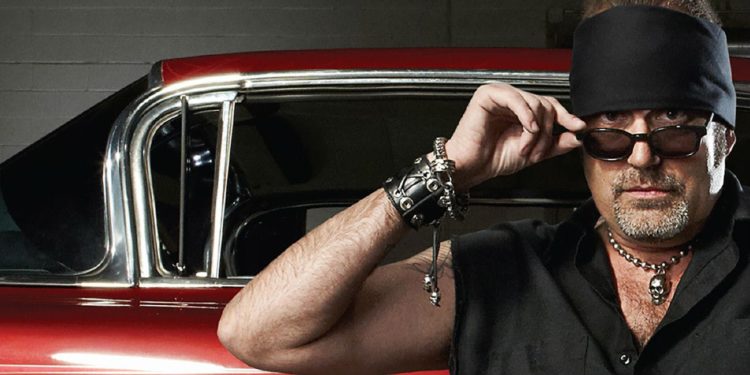 Everyone's got a modicum of fascination with cars that the History Channel tapped into many years ago. With an entire line of shows that feature cars in some way or another, the network grew its viewership beyond automobile aficionados. Counting Cars premiered in 2012, and it's still remarkably strong even after 8 seasons of being on air. Counting Cars was a spinoff of the widely successful reality show, Pawn Stars, and it follows the predecessor's format. Filmed in Las Vegas, Nevada, Counting Cars follows the life of Danny Koker and his employees at Count's Kustoms—a company that restores and customizes automobiles. We're going to take a closer look into how the show has evolved since we first saw it in 2012.
Over the years, the production team behind Counting Cars has changed quite a bit. The show airs on the History Channel, but it's produced by Leftfield Pictures. During the first years, Leftfield's executive producers for the show were Shawn Witt, David George, and Brent Montgomery. Montgomery has worked as producer on plenty of shows in the past including The Bachelor, American Restoration, and Pawn Stars. Equally, Counting Cars was executive produced by Zachary Behr and Julian Hobbs from the History Channel. There were a few other changes to that list of EP credits, but by 2015, Leftfield Pictures had four EP representatives for the show including Simon Thomas in addition to the original three. Sean Moran and Jonathan Wyche executive produced for the History Channel.
Counting Cars has an average 22-minute run, and that's pretty much stayed consistent throughout the 8 seasons. It's enough time to see what the crew at Count's Kustoms is up to and to see what projects are happening. During the first season of the show, we saw 13 episodes, which was quickly doubled for the following two seasons. By season 4 of Counting Cars,the show featured 35 episodes. That number was cut down to more than half in the next couple of seasons. Season 5 and 6 both had 14 episodes, which went up to 19 and 17 episodes for seasons 7 and 8 respectively.
Within those seasons, we've also seen a lot of changes with the cast of Counting Cars. Most of the changes within Count's Kustoms is logically reflected on the show, but characters that have left are still mentioned in the show from time to time. When Danny Koker started the show, he had been running a successful business for over 15 years already. In fact, he was constantly featured as an automobile expert on Pawn Stars; that's really how he got around to starring in his own reality TV show. He has also appeared in American Restoration.
Scott Jones was Count's Kustoms' manager and bookkeeper during the first couple of seasons. He left before the third season because he moved his family to Tennessee. Scott and Danny never saw eye to eye, but Danny acknowledged Scott's skills as a manager constantly. Danny's best friend Kevin Mack took over Scott's roles after he left. There are a few artists featured on the show. There's Horny Mike and Roli Szabo, who's the company's detailer. Szabo is infamous for his thick Hungarian accent, which is still just as strong even after 8 years of being on television. It's probably just become his signature character now. Ryan Evans is the show's main custom painter. There's also Shannon Aikau, Big Ryan, Grandpa, Doc, and George. All of the guys have stayed on the show with the exception of Scott Jones. There are many speculations as to why Scott left, including one that says he embezzled money and was possibly fired by Danny.
The show has maintained a steady momentum over the years. All of the remaining cast member's net worth have gone up incredibly. Some of the cast makes more money than other, depending on what their job responsibilities are, but they all generally make good money from both the show and the business.
The dynamic within the show is still entertaining even after all this time. Now, we've seen the crew grow together and get closer. We've seen them all tackle some of the most interesting projects over the years as well. We've seen a ton of classic cars and motorcycles, and as much as Danny hates them, we've even seen a whole bunch of newer cars get customized on Counting Cars.
What we've learned over time, however, is that Counting Cars is much like any other reality show on TV. There are plenty of things that happen in the background that we don't see on television. For instance, we've learned that Danny's operation is actually larger than it seems on TV. While we only see the cast majority of the team, there are at least 45 people employed at Count's Kustoms. And while we only usually see a couple of projects per episode, there are at least 15 projects that are always being worked on at Kustoms. Now that the show is bigger and more popular than ever, we've also noticed that it's gotten harder to make deals.
Finally, we've learned that Counting Cars is not a perfect show. Danny has always been regarded as a car expert, and that's really the basis for the show. However, we've seen and heard inconsistent and inaccurate information from Danny during the last 8 seasons. It's not a true deterrent for the show, but we've just learned not to take everything Danny says at face value. He's still quite knowledgeable in the industry, and we'll continue to watch as long as he continues to produce amazing renovations.