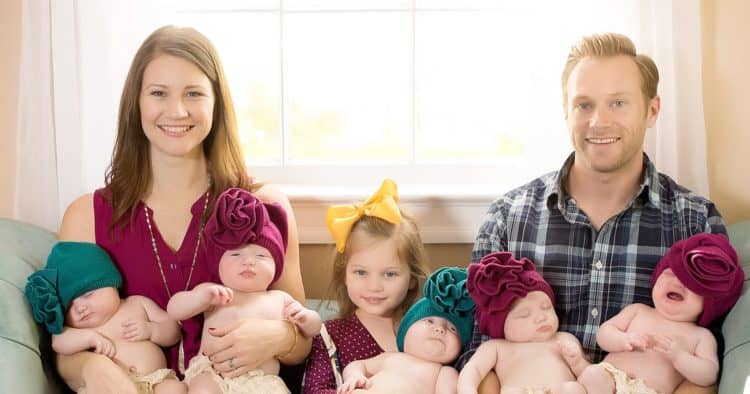 If you love family reality television, then you must be a fan of Outdaughtered, an American TLC hit reality series featuring a family of eight. Starring Adam Busby and Danielle Busby, the two parents were born and raised in Louisiana and have been married since 2006. The couple is blessed with six daughters. Surprisingly, the five of the daughters are quintuplets, the only ones in the United States. The firstborn daughter Blayke Louise was born on April 5, 2011. Danielle delivered the quintuplets prematurely at 28 weeks via a Caesarian Section on April 8, 2015, in Houston. Consequently, they were put in intensive care units until they were old enough.
Nationally, there were a documented 66 quintuplets by 2013, as per the National Center for Health Statistics. The same-gender quintuplets are however highly rare to the extent that there are no records of such quintuplets ever existing in the United States of America. Ava and Olivia are identical twins, whereas Parker, Riley, and Hazel are fraternal triplets. Danielle's pregnancy of the five babies came as a shocking surprise to many, including herself. Even her husband, friends, and family were amazed, given the fact that she had been struggling with infertility for some time. Besides, she had conceived her firstborn daughter as a result of artificial enforcements. With the quintuplets came "OutDaughtered" which debuted on May 10, 2016. The fifth season premiered on June 11, 2019, and these are some of the evolutions since the first season to date.
The kids have grown a great deal
When the show premiered back in 2016, the quintuplets were just over a year old. The kids who were crawling at the beginning of the show are no longer kids. At the age of only four years, the kids can construct proper words and sentences and even talk nonstop on the show. According to the People, Danielle says that she cannot believe she has a seven-year-old in the house. She continues to say that Blayke has grown a lot and has lost six teeth, grown nearly four inches, and has been the best big sister her mom could ever want. The quints have also changed a lot physically, as evidenced by the family's Instagram account.
Marital issues
According to Fame10, Adam and Danielle Busby have gone through marital problems that have shaken the family. They have managed to stand by each other through thick and thin. Most of the allegations have been strange or false in a way, making it easier to solve. In season three, when Adam also fails to call his wife, there is an outburst among the fans. Some of them were confident that Adam was dealing with postpartum depression. At the same time, rumors spread all over that Adam was cheating on his wife. After Valentine's incident, some fans went on social media to claim that Adam was secretly gay. This false fact that surfaced in a bid to stir up drama among the couple has only made them stronger since they are still standing.
Finance management
As they welcomed their new firstborn babies, the family of eight had to go through a series of financial struggles. At that time, Danielle had to stop her full-time job, leaving Adam to be the sole breadwinner plus reducing their income. According to Good housekeeping, when they began the show a year later, they still had their struggles since having kids can be rather expensive. In season two, Adam bought a drone worth 2 million dollars. The TLC paycheck remains the big deal as they earn a $40,000 per episode, making it about 1 million dollars per season. Although he had to quit his job for entrepreneurial and personal reasons, his previous career earned him about $80,000 a year.
Adam's Postpartum Depression
Adams's mental ability has been a significant cause of concern for all viewers. He had to admit to his wife and family that he was not well. He first experienced depression when his wife gave birth to the quints. According to ScreenRant, Adam confessed to his father that he no longer feels like himself. He added that he generally does not feel like dealing with work, friends, and even his relationship. In an interview with ABC News, the star confessed depression was due to the pressures of parenting. He further states that it got worse with time making it difficult to focus on any other thing. He felt also withdrawn from his healthy life plus his relations with everyone, including his wife. It hit him that men suffering from this condition have to endure an arduous struggle which made him feel obligated to enlighten his fans about the issue. He thought it would be a disservice to everyone if he remained silent and hid the truth from the public. Adam then continued his campaign on Twitter in a tweet saying that one in ten men suffer from depression, yet no one wants to talk about it. He, however, no longer feels the need to hide his condition and looks forward to creating awareness for other American fathers.
Entrepreneurial advancements.
The entrepreneurial spirit runs deep in this couple. To pay their bills, the two had to come up with other means of income. Adam quit his job at Key Account Manager at Intrinsic Solutions and Sprint Safety last year. He now owns Adam Busby Medis specializing in video and photo projects making priceless memories through graphics for different families. Apart from the show, his wife also runs a cycling company, a family company called Rush Cycle. She also uses social media accounts to advertise different products, including popsicles as well as beauty and skincare products. Both keep their social media accounts updated on their status and that of the kids. They also have a family Instagram account that also earns them some revenue from the adverts and also helps advertise their show. Further, they have a separate website where they also promote their reality show.