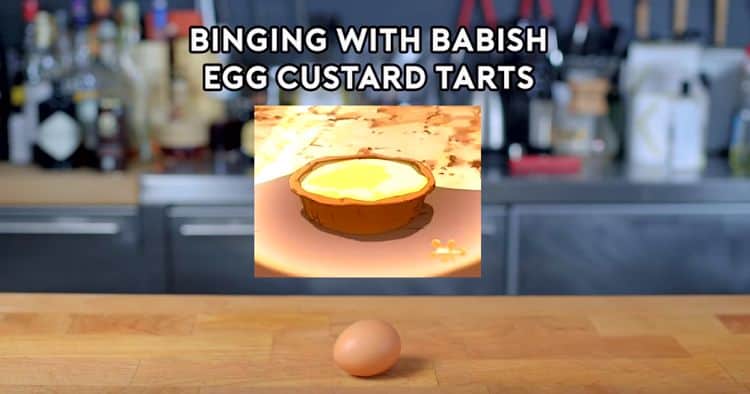 Let's be fair and say that Binging with Babish is a great show and a lot of fun when it comes to watching how popular dishes from various shows and movies are made, at least in one respect. In this video we got to see how the egg tarts from Avatar: The Last Airbender, are made in a couple of different ways that both look extremely appetizing and are likely worth the effort that goes into making them since the second manner that that Babish shows looks a little more complicated and therefore might take a great deal more effort and practice given that baking is something you either pick up quickly or must do over and over in an effort to practice and then memorize how each individual recipe goes and how much of this or that needs to be added in so that the recipe comes out the way it should and doesn't end up tasting like utter trash or something delectable that bears no resemblance to what the desired dish was. One kind of wonders how many times Babish has to go through his videos or how many times he practices in order to get everything right since some of the recipes he's shown throughout his time on the internet have been pretty crazy, like the crayon sandwich from the Simpsons that was showcased a while back.
Egg tarts don't sound incredibly difficult to make unless one is trying the Portuguese method which tends to call for more ingredients and slightly more complex methods than the first recipe which appears to be pretty standard. Baking anything isn't rocket science, but when more steps are added and more ingredients are put into the mix it becomes more of an art form that is continually expanded upon by each baker in an effort to put their own stamp on something and therefore make it their own version of a popular dish. One would likely have to be a fan of Avatar to really understand the significance of the egg tarts and without watching the show the best I can hope to say is that they're a common staple or something that is a bit of a treat to the characters and not always as available as they'd like. It's hard to say but again this looks like a fairly easy dish to make but also a pretty easy dish to screw up since the simplicity of it could make a lot of people cut corners and even think that they might be able to skip steps and have the recipe come out just fine in the end. That's the thing about baking though, especially when one first starts out. It's best to go by a recipe, usually based on one's taste or on how well they follow directions, and follow every step to the letter until the recipe is understood forwards and backwards. Once a person can execute a recipe from memory it becomes more likely that adding one thing or another or using a different method will be just as successful since the baker will then know just how each new ingredient or method will react with the overall process.
With this recipe it does feel as though things have to be just the way that Babish is showing them throughout several batches for a baker to get it right. Even then trying to customize the recipes would appear to be something that a lot of bakers wouldn't tackle unless they were confident that they could make it work. That level of confidence is usually something that a person has to work to attain for some time since baking isn't an overnight skill to learn unless one is going by the box instructions time after time. Claire Saffitz of Basically has more to offer on this line of thought. Egg custard tarts don't look incredibly difficult to make, but again, the patience and the need to do it over and over again in order to get the recipe down would be important if only because the result if someone decided to rush any part of the recipe doesn't sound as though it would be all that great. It could be too runny, too stiff, too crumbly, too hard, and in such an instance this entire delicacy would likely be ruined since there's not a lot to it and there's not a lot of room for error.
Binging with Babish is always a fun program to watch since the various recipes that come across the table are usually quite interesting and capable of being reproduced in a fairly simple way so long as a person is able to find the ingredients and has a fully functioning kitchen with needed implements to make each dish. Likely as not it will take a lot of practice to perfect each dish, but it looks like a lot of fun to try.