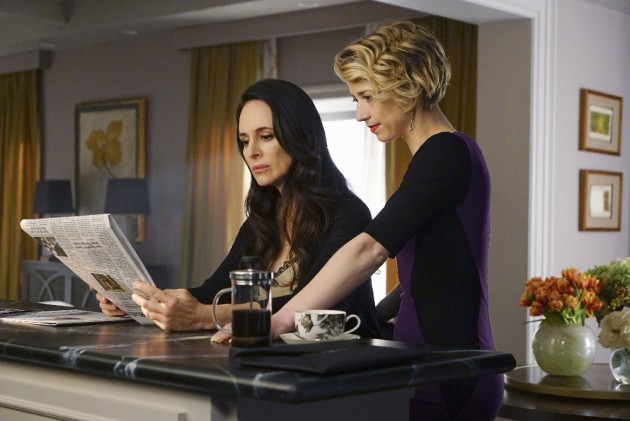 When I spoke with Revenge star James Tupper (who plays David Clarke on the ABC series) last month, he teased Revenge's craziest scene yet, only telling me that it was a "whopper" and that it happened in Episode 20 of the show's fourth season. Well, we found out exactly what that "whopper" was in last night's episode of Revenge, titled "Burn," but I don't think anyone (including myself) could have predicted what actually transpired. Believing that it was the only way to ensure that Emily would be taken down, Victoria broke into her old house, Emily's current home, and blew up the entire Grayson Manor, with herself still inside. That means, as long as Victoria did not somehow escape the huge explosion (and the promos for next week's episode seem to indicate that she did not), that Emily's arch enemy and Revenge's other leading lady is dead with three episodes still remaining in the show's fourth (and quite possibly final) season, and I'm wondering where the series can go next.
Since its very first episode, Revenge has always been Emily versus Victoria. While the show's central story was about a daughter clearing her father's name, it was the constant back-and-forth between the two Hamptons' socialites that kept viewers interested in the series, even when other parts of the show were a letdown. By killing off Victoria (if that's what Revenge has actually done here–again, this could have been staged, although that might be one twist too many to swallow), the series has eliminated its most compelling dynamic, leaving things open for an unpredictable conclusion.
It appears that, with this final action, Victoria is framing Emily for her death and thus ensuring that David's daughter will pay for all the actions she took to clear his name and tear apart the Graysons over the years. In a way, it makes perfect sense that Victoria would want to take her own life, fearing that Emily may have something even worse planned for her, that the cycle of revenge between the two of them would never actually end, and she makes sure that her death means something by setting Emily up to potentially take the fall. However, is this what these final three episodes of Season 4 will be about? Will we watch as Emily is interrogated, arrested, and perhaps even put on trial, similar to what happened with Daniel back in Season 1 of the show?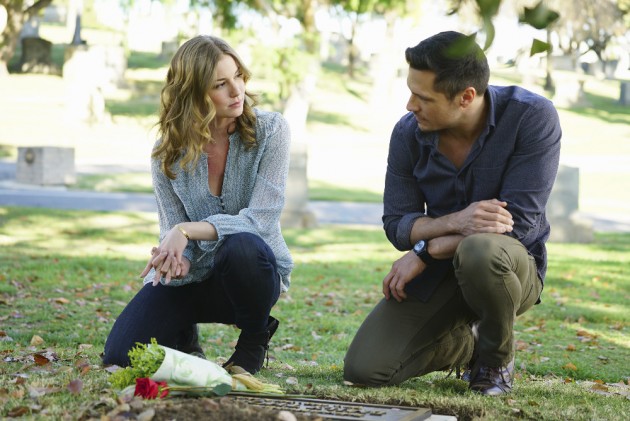 With so many other characters having moved on, Victoria's death, along with the return of Mason Treadwell, could be what brings them all back together. Maybe once Emily is arrested for Victoria's murder, Jack will return to the Hamptons to help her in some way, and Nolan, of course, will continue to stand by Emily, no matter what. Perhaps it's up to him, Jack, and David to now clear Emily's name, like she did for her father, and this could very well put them up against Margaux and Louise, and maybe even Ben, who was already upset with Emily and now, after last night, knows about her true feelings for Jack.
For the first time, Revenge's chessboard has been wiped clean. Conrad, Daniel, and now Victoria are all dead, and even though Charlotte is set to return, the Graysons, the show's main antagonists, are no more, which could allow for something new, fresh, and exciting in these last three episodes, or cause a disappointing conclusion to a series that seemed to have regained a lot of creative momentum this year. It all depends on the execution.
Ultimately, I could see this final stretch of Revenge episodes causing Emily to have to recreate another whole new identity for herself as she goes on the run after being falsely implicated in Victoria's death. She began this series as Emily Thorne, and now, as she is finally starting to finally embrace being Amanda Clarke and everything that comes with it, it would be both tragic and poetic to have that stripped away from her as Revenge comes to a close. That may be the best way for Revenge to end (even if the series does somehow get renewed for a fifth season, the show's EPs have promised that this season does tie things up), with Emily having achieved her goal but realizing that there is no going back for her–she's caused too much pain to not only others but herself, and there's just no undoing it.
Revenge's Season 4 finale is titled "Two Graves," the first time more than one word has been used as an episode title for the series and a direct reference to the Confucius quote from the show's pilot; however, it may not be talking about two literal graves. No, for Emily Thorne, the worst death she could face would be the total destruction of Amanda Clarke, of the part of her soul that is still the girl she used to be, the one who ran on the beach and laughed with her father and fell in love with Jack. Victoria may have dug her own grave in last night's episode, but her actions also created another one just for Emily. Now we'll wait and see if she can claw her way out of it.
UPDATE:Â Madeline Stowe has confirmed Victoria's fate in an interview with TVLine.
[Photos via ABC]