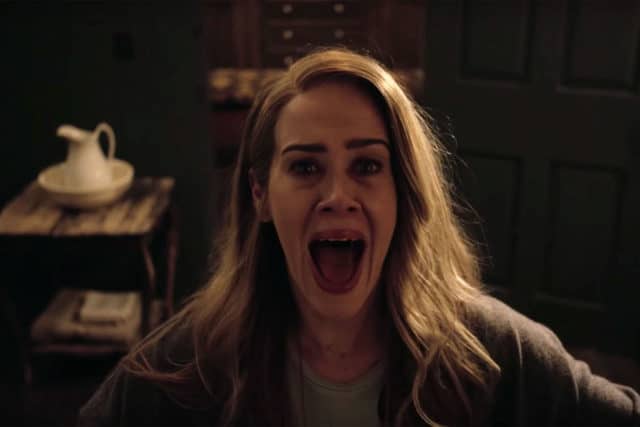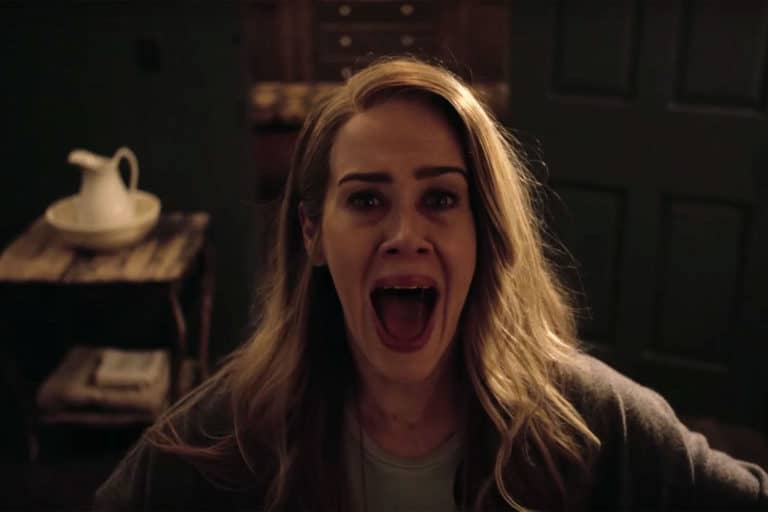 So far we don't know a lot about the upcoming season of American Horror Story: Cult, but some people are okay with that. Even the little details we do get are starting to stoke the fire for September, so really it's getting a little exciting around here. Sarah Paulson must be getting a bit antsy too since she let it slip that her role in this coming season is going to be that of a woman stuck in a love triangle that will no doubt be something of a snag in the series that will iron itself out in due fashion.
Paulson has been one of the favorites of the show since season one and one of the only stars that has stuck in for every single season. Her roles and her level of involvement has come and gone throughout the seasons but she's been there no matter what. In season one she had a lesser role really as Billie Dean Howard, a medium that was skilled at contacting spirits. She didn't show up much, but was there for at least a couple of episodes. Jessica Lange was the main star at that point and to be honest Paulson was just getting started it seemed.
In season two she came roaring back into prominence as Lana Winters, a reporter that was captured and held in the asylum until she finally escaped. Jessica Lange was still present in this season to stand out as one of the main characters, but Paulson was gaining ground by this point.
As of season three Paulson had finally stepped into a full role despite the fact  that she was still opposite Jessica Lange, who like her role as supreme was trying to keep her place within the series. She was still a masterful villain, but Paulson started to shine in her own way as she took on a heavier role and became a much more important character.
By season four there was no doubt that she was a star. Jessica Lange was kind on her way out and Paulson had even taken up the role of a singer as she managed to belt out a few notes during the season. By the end of Freak Show however she was fully established and was an integral part of the show.
Hotel saw her front and center as one of the most crucial figures. She even seemed to make Evan Peters a little more inconsequential despite his awesome character. As Sally and then as Billie Dean Howard again she was great, and she had proven that she was invaluable to the show.
Roanake was kind of a flop season but she still played it off front and center with as much skill as she could. A lot of fans were disappointed when the second half of the season saw the big reveal that the first half was just a show within a show and nothing had been "real". It was kind of a slap in the face to AHS fans really, but Paulson was still great.
Now in Cult she's bound to be front and center as the guiding star of the series once again. She's the star that Jessica Lange once was, but in a much greater capacity and a much bigger way. At this point she's the linchpin in the show, or one of them at least, that the series really relies on.
Save