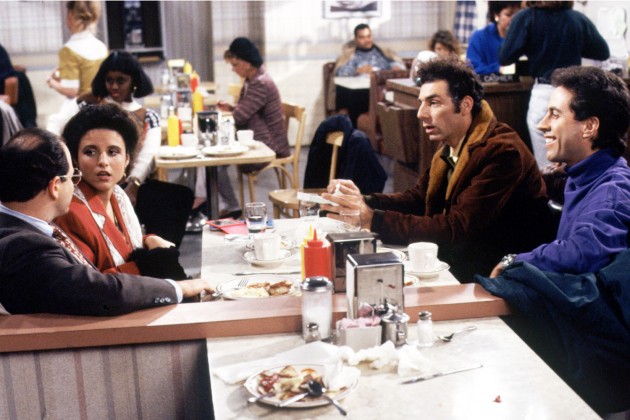 Hulu is bringing in a little bit of the old and the new by acquiring the exclusive streaming rights for both Seinfeld and the upcoming Walking Dead companion series, Fear The Walking Dead.
Beginning in June, fans of Seinfeld (who don't already get enough of the many reruns  that are on TV every day, or own the complete series DVD box set) will be able to stream any episode from the show's nine seasons that they want, at any time, using Hulu. This will be the first time that the entire series of Seinfeld will be available to be fully watched, all in one place, online. Up until now, those searching for full episodes on the web would only be able to find clips or select episodes on websites for TV networks that show repeats of the series regularly.
However, getting the rights to entire Seinfeld catalog doesn't come cheap. According to Variety, Hulu paid $180 million for all 180 episodes of Seinfeld, therefore, essentially paying $1 million per episode.
Additionally, as briefly hinted at above, Hulu will also be the exclusive online host for all new and upcoming scripted drama and comedy series from AMC, IFC, BBC AMERICA, SundanceTV, and WE tv; Fear The Walking Dead, which will premiere on AMC sometime this summer, will be one of the first shows  that's a part of that group. Furthermore, this new deal for Hulu also includes exclusive and nonexclusive unscripted programming from WE tv and a wide array of films from the IFC Films collection.
Seinfeld fans, what do you think of this news? Are you excited that you'll be able to watch all of the show's episodes in one place online now, or did the daily reruns and/or DVDs already take care of that desire for you?
[Photo via NBC]