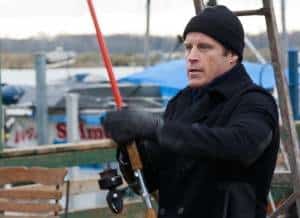 Fox is making a few announcements ahead of its Upfront presentation next week. The network has reportedly picked up pilots of the Bones spin-off The Finder, the J.J. Abrams series Alcatraz and the comedy The New Girl, starring Zooey Deschanel (read more about the pick-ups here).
But the news coming out of Entertainment Weekly is that Fox has decided not to renew Human Target for a third season. Human Target premiered on Fox in January 2010. Early in the series, the show jumped around the schedule on different days, before finally settling on Wednesday nights. When it returned for a second season, the show was supposed to be paired with Fringe on Friday nights, but ended up going back to Wednesday nights after the season 2 premiere episode was delayed. Ratings dropped to around 6.5 million viewers in its second season, although there was a pick-up in ratings towards the end of the second season.
There's not a lot of room on the Fox schedule next season, particularly with the renewal of several established shows, like Bones, House and Glee. Fringe was also surprisingly given a renewal, despite being a lower-rated show. With the premiere of the new Simon Cowell reality series, The X Factor, next season, real estate is at a premium for the network. With the pick-up of The Finder, The New Girl and Alcatraz, it's possible Human Target was a casualty to free up space.
Two more lower-rated shows – Lie to Me and Chicago Code – are still "on the bubble" and awaiting news about renewal or cancellation.
clarissa @ tvovermind.com
twitter.com/clarissa373
twitter.com/tvovermind