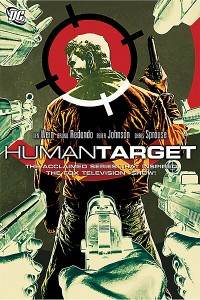 Hands up: how many fans of FOX's Human Target know the series was based on a comic book?
How many of you knew that the comic book returned this year as a result of the series?
Die-hard Human Target fans (like myself, I admit) will be aware that Christopher Chance actually made his debut in the pages of a little-known comic called Gang Busters in 1958. He then disappeared for more than a decade before he made what is widely regarded as his first appearance in DC Comics' Action Comics in 1972. Subsequently, Chance made appearances in The Brave and the Bold and Detective Comics.
In 1999, writer Peter Milligan and artist Edwin Bukovic tried reviving the character for DC's grittier Vertigo imprint. They produced a four-issue miniseries, then a trade paperback called Human Target: Final Cut (both of which have been combined into Human Target: Chance Meetings, re-released in January), before running a 21-issue regular series that was cancelled in 2003.
That was the last fans saw of Chance in print until the Human Target TV series took off. To coincide with the show, DC Comics commissioned a new six-issue miniseries co-written by original creator Len Wein. The last issue was published in July. Should you have missed it, DC is releasing the trade paperback on November 3. (The cover art says "that inspired the FOX television series," but that's misleading. While the show was inspired by the original comic, this TPB collects the new miniseries that was actually based off the TV series, not the other way around. One only has to note the appearances of Winston and Guerrero, to say nothing of the fact that Chance now resembles Mark Valley.)
An inquiry into whether or not DC has plans to publish more Human Target with the TV series' renewal hasn't yet been answered, but if I hear anything, I'll update this article with more information.
You can currently pre-order the TPB at the discounted price of $12.14 (from its $17.99 SRP) at Amazon.