A week and a half ago, I told you the Human Target: Season 1 soundtrack was on its way. Now I have a copy in my hands, so I can share with you just how awesome this three-disc set is. As in, it may have taken up permanent residence in my stereo's multi-disc changer.
If you're reading this review, you're probably familiar with the high-adventure feel that is such a big part of what makes Human Target great. That was encapsulated by Bear McCreary's Emmy-nominated main title theme and equally amazing orchestral score. No offense to Tim Jones, but no amount of needle drops are going to compare to what's on these three discs. As much as I love pop music, there is zero comparison between a pop song and the immense sound of an orchestra.
I have an immense amount of respect for composers and musicians, because music is a major part of the finished television and film product. For every project that I've worked on in the last decade-plus, I can recall not just the pieces that made it into the finished product, but the ones that I listened to while in production that set the mood of a moment or inspired me to finish a particular scene. To this day, just playing certain songs drops me right back into making a particular film or TV episode. Bear McCreary didn't just make a cool score for Human Target. He helped create the world of Human Target, and listening to all of his cues delivers me right back into every pulse-pounding episode. They sound even better when I can crank the stereo and wake my neighbors.
The collection leads off with (of course) "Theme from Human Target." The Emmy-nominated title cue has become one of my all-time favorite TV themes, and it sounds even better in this longer version than it did when broadcast. There's also a short version that concludes Disc 2 and an alternate short version at the end of Disc 3. I can't come up with enough superlatives to describe how this theme won me over, so I'll just say that both Mark Valley and I would love to have it playing every time we walk into a room. (His entrance would be a million times better, though.)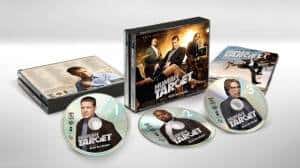 That's just the start. When I interviewed Bear last month, he said that this collection contained "almost everything," and he was not kidding. There's over three and a half hours of music on this set, with a handful of cues for every episode. It's not one of those soundtracks where a dozen tracks are cherry-picked from across the season and you hope that the one you like is on there. There first two CD's take you through all of season one (being that it's my favorite episode, I loved the segment of Disc 2 containing the tracks from "Baptiste"), and then there's a ton of bonus music on disc three. There's a cue for everything, like a 48-second piece for the introduction of that duplicitous flight attendant from "Rewind." Just be aware that the tracks are not in episodic order.
I could go on for hours about how great this collection is, but if you're a fan of Human Target, you've heard the music and you can judge for yourself. For me, this isn't just a great score but it also stands on its own as an outstanding album. Already, I've played selections from it getting ready for work, driving on the way to work, while writing, and yes, to see if my neighbors were awake. (With a theme this cool, you have to try and blow the windows out at least once.)
Furthermore, Human Target is a little gem because of the thoughtfulness and passion that went into it. Not only is Bear McCreary a true professional (I thought I'd never hear a score as moving and involving as the one Brad Fiedel composed for Terminator 2: Judgment Day, but this is a close second), but the supportive partnership he has with series creator Jon Steinberg is unlike any relationship I've ever heard of between a composer and producer. Steinberg collaborated with McCreary, shared his passion for classic scores, and let him flourish unencumbered. That comes through in the final product. In that aspect, listening to Human Target is bittersweet, because I know there's a new composer and a new showrunner, and it won't be the same.
This is a collection that needs to be owned by all Human Target fans, fans of film or television scores, and fans of great orchestral music. Certainly, it's one of my favorite albums that I've ever owned. I can only express my deep gratitude to Bear McCreary for getting this release out to the fans. I can't thank him enough for gifting me with a score that's going to stay in my disc changer – and in a soft spot in my heart – for a long time to come.
Human Target is limited to 2,000 units, so order your copy from La-La-Land Records ($24.95) as soon as possible. You'll thank me later.
For more Human Target coverage, you can check out my advance review of episode 2.02, "The Wife's Tale," which airs November 24 on FOX.