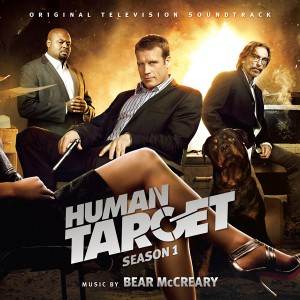 It's here! In September, Bear McCreary told me in our exclusive interview that a Human Target season one soundtrack was on the way. That day has finally come, as it will be available on October 19 (that's Tuesday).
The 3-disc set from La-La Land Records is as complete a collection of score as you can ask for; Bear himself said he'd be "stunned" if the album was missing any of his cues, and called it "the most incredible soundtrack album I've ever put out." Considering that this is the man who has produced albums for shows like Battlestar Galactica, Caprica and Terminator: The Sarah Connor Chronicles, that's high praise for a soundtrack album indeed. Anyone who saw the first season of Human Target will no doubt agree with him, especially when it comes to the Emmy-nominated main title theme (which comes in an even more amazing long version on this set).
So how can you get your hands on a copy? There are three ways as of right now – the first being to order it from La-La Land Records directly starting at 1 PM PST on October 19 (the first 150 purchased will be autographed).
You can also order through Dark Delicacies, where you can guarantee that you'll receive a personalized signed copy if you're willing to cough up $11 for shipping (at least as of last night) in addition to the $24.98 price tag.
Even better is to come down to Dark Delicacies (in Burbank, CA) on Sunday, October 24, where Bear will be doing a CD signing (time TBA) and get it autographed in person. Their website doesn't list any further details yet, but when more information comes my way, I'll update this space.
Regardless of how you obtain it, the Human Target soundtrack is sure to be a hot property. Bear has said on his Twitter that only 2,000 copies will be made. I'll have a full review for you as soon as I get my copy, but having listened to some of the tracks, I can tell you that they sound even better than they did on television. This has the potential to be one of the best, if not the best, when it comes to television soundtracks.
Stay tuned for a full review next week, but until then, I'm off to blast the Human Target theme again. My neighbors don't need sleep…