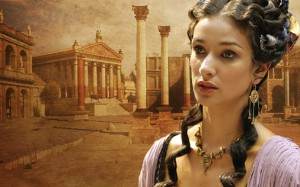 For those of you who read the title of this article and were worried about Human Target's Winston (played by Chi McBride), I can't really assuage your fears. We last saw Winston in the season finale of Human Target being taken away via helicopter by one of Chance's enemies. Whether or not he'll pop up again is officially up in the air, but my gut tells me that Winston will still be around (would FOX really dump Chi McBride? Yeah, I didn't think so).
But whether or not Winston survives/sticks around, Chance (Mark Valley) and Guerrero (Jackie Earle Haley) will be getting a new boss in the show's thirteen-episode second season, which premieres in September. The boss will be a main cast member of the series, bringing the regular count up to a whopping four (it's one of the smallest main casts on television).
The boss will be portrayed by English actress Indira Varma, who most recently appeared alongside Idris Elba in the British series Luther. She also appeared in Torchwood's first series, had a regular role on the HBO series Rome, and had a guest appearance on Bones in 2008. She's pretty much an unknown here in America, unlike her other three castmates, so it should definitely be interesting to see such a fresh face as a main cast member on Human Target.
Digital Spy is describing Varma's character as a "sophisticated, driven and principled" woman. A rich widow, she will apparently clash with Chance over his methods. How she met Chance or came to become his boss is totally unknown, and should be a very interesting relationship to see develop.
Human Target will move to the fall with its second season and run its thirteen episodes starting September 24. It's unknown whether the show is being considered for a back nine (which is the only reason I can think of for a move to the fall) or if the thirteen episodes is all we get. However, with a dynamic change such as this, I'm definitely excited.