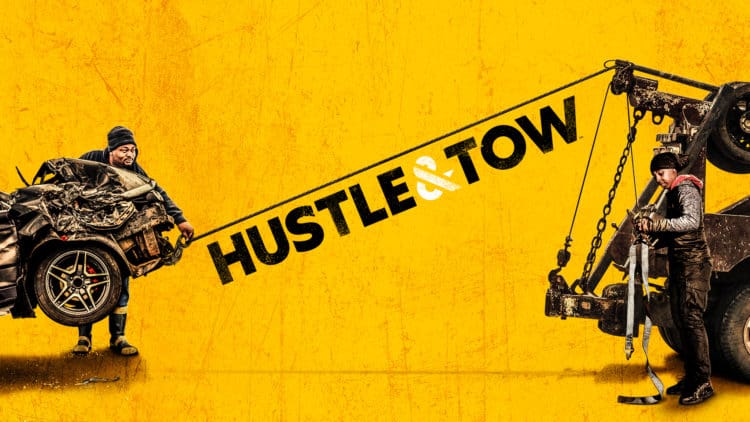 Have you ever had your car towed? If so, you probably remember it as a very annoying and inconvenient experience. If you're like most people, you probably didn't even think about what the experience was like for the people on the other side, but thanks to a new A&E series, you will now. The network's new show, Hustle & Tow, follows tow truck drivers as they go out on various calls. The series provides a unique behind-the-scenes look at what it's like to be a tow truck driver and how the process really works. If you love reality TV that is full of fast-paced excitement, this is one show you should keep on your radar. Here are 10 things you didn't know about Hustle & Tow.
1. The Show Doesn't Do Reenactments
Hustle & Tow may not be the first TV series to follow tow truck drivers on the job, but it is the first one to do it documentary style. Unlike South Beach Tow which used reenactments, the cast members on Hustle & Flow are followed around by a camera crew who captures calls exactly how they happened.
2. Some Of The Calls Are Dangerous
Most people probably don't think of tow truck drivers as first responders, but in a sense, that's exactly what they are. Their entire job revolves around them taking calls to go pick up vehicles and they never have any idea what they're getting themselves into. Between busy rodes and angry drivers, tow truck drivers are often putting themselves in danger when responding to calls.
3. The Show Features Towing Companies Across The Country
One of the cool things about Hustle & Tow is that it doesn't spend the whole season following around just one crew. Instead, the series features tow truck companies from all over the United States including businesses in major cities and rural areas. This allows viewers to get a chance to get a much broader perspective.
4. The Show Is Full Of Suspense
If you're the kind of person who loves watching things that keep you on the edge of your seat, then you'll probably love Hustle & Tow. As a viewer, you'll get to experience each moment of the call and towing process right along with the drivers and the rest of the team.
5. The Future Of The Show Is Unknown
The process of getting a show approved and filmed isn't easy, and getting that show brought back for another season can be even more difficult. At the moment, the show hasn't been renewed for a second season, but every involved is hoping that the announcement comes soon.
6. The Idea For The Show Came From A Pitch Meeting
Have you been wondering where the idea for the show came from? The show's executive producer, Benjamin Nurick, told TV Show Ace, "Hustle & Tow was born from a pitch meeting with A&E, where we discussed the incredible unpredictability of tow truck operators' work, which is naturally the type of storytelling that appeals to most viewers."
7. The Show Doesn't Have Its Own Social Media Profiles
In recent years it has become very common for people to want to follow their favorite shows on social media. Unfortunately, that isn't a possibility with Hustle & Flow. The show hasn't been given its own social media accounts although viewers can follow A&E's official profiles for updates. If the show ends up getting renewed, there's a chance it could get its own accounts.
8. The Show Will Have Some Heart Warming Moments
Sure, Hustle & Flow will have its share of danger and suspense, but that isn't all the series has to offer. The show will also offer some touching moments. Viewers will get the chance to learn the tow truck drivers' backstories as well as some of the positive experiences they've had on the job.
9. Viewers Are Loving The Show
So far, people seem to really be enjoying Hustle & Tow. Lots of people have been using the hashtag #HustleandTow on social media and some people have even declared the show to be their new favorite. A Twitter user named REWCommunityInc said, "#HustleAndTow Is very grea [email protected] its bringing us back when we first watched our first tow truck series name #LizardLickTowing #SouthBeachTow We hate It ended but you guys thought about doing a tow truck series we love anything about a tow truck. #HustleandTow"
10. The Show Is Produced By Bodega Pictures
Hustle & Tow airs on A&E and it is produced by the award-winning production company Bodega Pictures. The company is no stranger to the reality TV world and has produced several other successful shows. Some of Bodega Pictures' other projects include sMothered and Extreme Sisters.