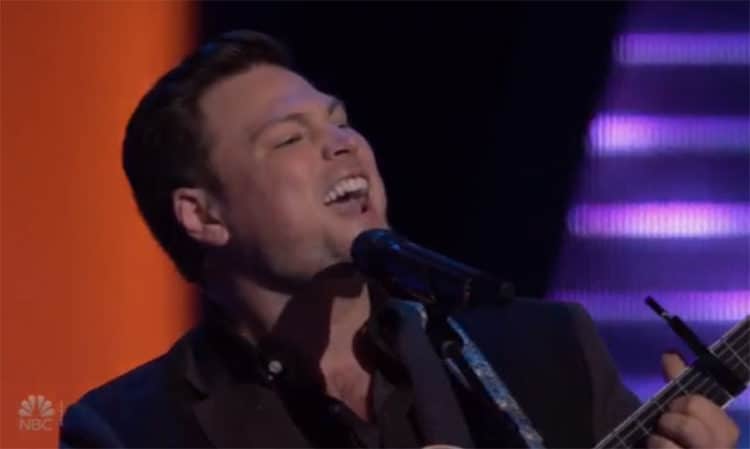 Season 19 of The Voice is already off to a tremendous start and the level of talent has judges and viewers blown away. One of the singers who has already been getting lots of attention is Ian Flanigan. During his first appearance on the show, he sang a beautiful rendition of "Cold Weather" by Zac Brown Band. Although Blake Shelton was the only judge who turned around during Ian's performance, his vocal abilities definitely have the power to take him all the way in the competition. As the competition continues to wage on, it'll be interesting to see how things play out for Ian. Continue reading for 10 things you didn't know about Ian Flanigan.
1. He Started An Entertainment Group
Ian obviously loves music, but as an independent artist he also has to think like a business too. As a result, he founded an entertainment group called Nightcap Entertainment. The group operates by helping other artists build and grow their brand by providing services like video shoots and press kit creation.
2. He Started Playing The Guitar When He Was 11
Music has been a big part of Ian's life since he was a kid. He picked up a guitar for the first time when he was 11-years-old and began learning to play. By the time he reached high school he had also developed an interest in singing and songwriting and began working towards a goal of becoming a professional musician.
3. He Lives in An RV
To say that Ian is about that 'on the road' life would be an understatement. Not only is he a touring musician, but he actually lives on the road full-time. He and his family travel around the country in an RV so that he can perform. The lifestyle isn't all work and no play, however, they often make stops so they can enjoy other things along the way.
4. He Has An Account On Patreon
If you want more of Ian after seeing him perform on The Voice, you'll be excited to know that he is an active user on Patreon. Pateron is a platform that allows people to create exclusive content that people can pay to have access to on a subscription basis. Subscriptions to Ian's Patreon start at just $3 per month.
5. He Likes To Spread Positivity With His Music
Ian loves keeping people entertained, but he also likes making them feel good as well. He loves getting the chance to use his music to create a positive atmosphere and spread good vibes. His upbeat style and attitude will certainly come in handy as he continues on his journey with The Voice.
6. He's Engaged
Ian's good looks and musical talents have probably made him a 'good catch' in the eyes of many, but Ian isn't looking for love. He has been in a relationship with Ayla Rector for several years and the couple recently got engaged. Rector has a daughter from a previous relationship who Ian loves as his own.
7. He Likes Performing At Small Venues
As a performer, Ian prefers doing his thing in more intimate settings. During an interview with HV Mag Ian said, "Being a solo musician 90 percent of the time, I feel I can connect better and engage with the stories behind the songs in a smaller venue." Hopefully he is ready to step it up to the big stage because there are going to be a lot of opportunities for larger shows if things go well for him on The Voice.
8. He's A New York Native
Ian's music has brought him to all sorts of different places, but his hometown has always remained in his heart. He was born and raised in small town in New York called Saugerties. It was in this town that Ian first discovered his love for music and got his start as an artist.
9. He's A YouTuber
The fact that Ian is a talented musician who lives in an RV makes him the perfect candidate to start a YouTube channel, so that's exactly what he did. Even though his channel has less than 700 subscribers, it has gotten more than 24,000 total views since it's launch in 2011.
10. He's Struggled With Addiction
Ian's journey to where he is now hasn't been an easy one. On top of the challenges that come with trying to pursue a career as a musician, Ian has also struggled with addiction. Four yers ago, he decided that he wanted to change his life and was fortunate to be able to enter a rehab facility. He has been sober ever since.