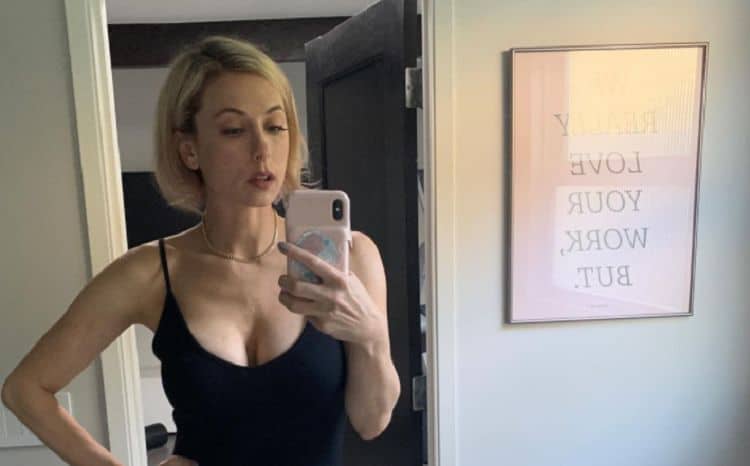 Iliza Schlesinger has a special knack for making people laugh, and she has turned that gift into a successful career. For well over a decade, Iliza has been performing on stages across the country and her star is still climbing. Over the course of her career, she has released five stand-up specials on Netflix and she has gone on several tours. Most of her comedy touches on things that are specific to women, however, her themes are always universal and she isn't afraid to get a little racy. Although she's already accomplished a lot of cool things, 2021 is shaping up to be another huge year for Iliza. Keep reading for 10 things you didn't know about Iliza Shlesinger.
1. She's Jewish
Iliza was born in New York City but she was raised in the Dallas, TX area. She attended a private high school in the area where she studied languages and first developed an interest in improv. Iliza was raised in a Jewish household, and it appears that she still practices the faith.
2. She Studied Film
Iliza's journey towards becoming a stand-up comedian doesn't look the way many people may assume. For many years, she actually followed a fairly traditional path. After graduating from high school, she enrolled at the University of Kansas; however, she transferred to Emerson College after her freshman year. While at Emerson, Iliza majored in film.
3. She's Married
For the bulk of her career, a lot of Iliza's stand-up material was centered around the fact that she was single. In recent years she's had to switch things up though. Iliza married a chef named Noah Galuten. The couple had a Jewish wedding ceremony in Los Angeles.
4. She's An Author
Stand-up comedy isn't the only way that Iliza likes to share her creativity with the world. She is also a published author who has released three books since 2013: War Paint, Girl Logic: The Genius and the Absurdity, and Girl Logic: Understanding That You Make Sense When You Make No Sense at All. 
5. She's A Writer and Producer
There are lots of people who are perfectly content with spending their entire careers doing just one thing, but Iliza has never been one of those people. In addition to the work she's done on stage and in front of cameras, she has also taken a step behind the scenes. She has written and directed several projects over the eyears.
6. She's Passionate About Helping Others
Iliza's entire career is built on her love for joking around, but there are some things that she is very serious about. Over the years, she has shown that she is very passionate about using her platform to raise awareness of causes that are important to her. She has worked with several charity organizations including United Service Organization (USO) and Team Rubicon.
7. She Hosts A Podcast
Iliza loves giving people advice, and she decided to turn that passion into a podcast. She is the creator and host of a podcast called Ask Iliza Anything. On the show, she gives advice to listeners on a wide variety of topics. and occasionally she brings celebrity guests along for the ride.
8. She's Gotten Some Backlash From Other Comedians
In general, it's not unusual for a comedian to ruffle people's feathers. However, Iliza found herself in an interesting situation when the feather she was ruffling belonged to other comedians. In 2017, she found herself being criticized by some of her colleagues when she said, "I'm banging my head against the wall because women want to be treated as equals, and we want feminism to be a thing, but it's really difficult when every woman makes the same point about her vagina, over and over." Many comedians felt like it wasn't Iliza's place to tell people what they should or should include in their jokes.
9. She Has 5-Star Feet
Apparently, Iliza's jokes aren't the only thing that people love about her. Her feet also have a pretty big reputation on the internet. According to Wikifeet, her feet have a perfect 5-star rating, and that's based on nearly 1,000 votes. The website also contains several pictures of her feet for anyone who's interested in seeing what all of the hype is about.
10. She's Done Some Acting
Comedy isn't the only type of performing Iliza has done. She has also had several acting roles over the years. She will be starring in an upcoming romantic comedy called Good on Paper which is set to be released in June 2021. Iliza has also done some voice acting.