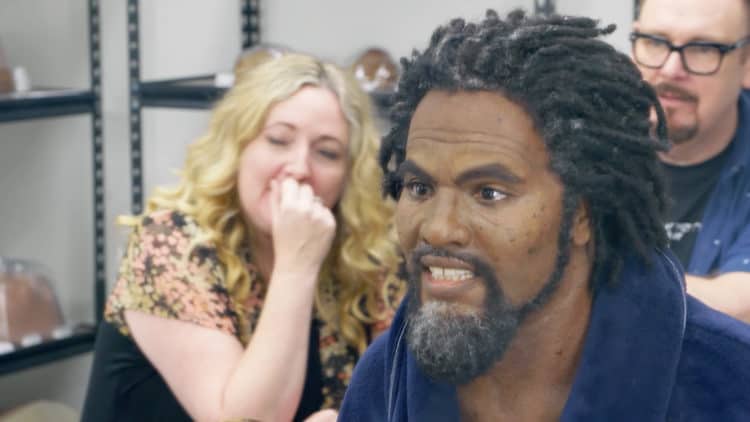 Do you remember "Work It?" The series was about two men who had to dress up as women to maintain their jobs. Well, "In a Man's World" is not about men but women who have to dress up as men. They hope to find out if they can get the respect they deserve in their male-dominated professions. The women have had enough obstacles, and if being a man for a couple of days is what it takes to make it in their careers, so be it. Let's check out some more facts about the new show.
1. It is Bravo's debut reality event series
Bravo has many shows under its belt and while some are scripted others are unscripted. It is home to the "Real Housewives" franchise and "Million Dollar Listings," among other Emmy-award winning series like "Top Chef." The brand has been in existence since 1980 and went under the umbrella of NBCUniversal Cable in December 2002. It is, therefore, quite an achievement for the network to be showcasing its debut reality event series through "In a Man's World." For those who cannot differentiate between an event series and a miniseries, Written By attempts to explain. According to the website, a limited series or event series is one that runs for more than four hours while a miniseries airs for less than four hours.
2. The aim of the series
Viola revealed that since her company is committed to being disrupters, she hoped the show would have a shifting effect on the audience. It aims to give each woman a new perspective in a man's world so that she can understand if she is not getting the chance because of her gender or there is more to it. In the process, all the participants will also learn something about themselves.
3. Viola Davis is among its executive producers
Viola Davis is an acclaimed actress who made it to the history books by becoming the first black woman to bag the Primetime Emmy Award. Viola continues to outdo herself not just as an actress but as a producer as well. She is partnering with her husband, Julius Tennon, as well as Andrew Yang, Danielle Medina, Kate Bernstein, Isaac Holub and a few more to exec-produce the limited series.
4. The production houses
Two production houses that are yet to make quite a significant mark in Hollywood have come together to make the series a reality. One production company is Lucky 8 which you might have guessed seeing that Isaac Holub and George Kralovansky are among "In a Man's World," executive producers. The company was founded eight years ago and aims to bring to the audience unscripted content. In its portfolio includes several shows for National Geographic, Food Network, Oxygen and many more. Juvee Productions, on the other hand, is owned by Viola, Julius, and partner Andrew Yang. The company has landed a first-look feature production contract with Amazon and is developing "Wild Seed" and "Fast Color."
5. The special effects makeup artists are Oscar Award winners
For a woman to look like a man without the option of surgery like Bruce Jenner's case, then only skilled special effects makeup artists can make it possible. The credits to the special effects go to none other than Academy –award winners Lou and Dave Elsey who run Igor Studios. They pride themselves with experience spanning over two decades. If you loved "The Wolfman" and "X-Men: First Class" you should thank the couple for their splendid work.
6. The episodes
"In a Man's World" is a four-part limited series and each episode will run for an hour detailing the process for each woman. Cameras will follow each woman's moves the audience will therefore get to see the participants, disguised as women on both their personal and professional lives. According to Hollywood Reporter, each episode will also follow the women to see if they manage to convince their family and friends, in the lead-up to the revelation.
7. It was ordered in May 2019
On 30th May 2019, Rachel Smith, Bravo Media's Senior Vice President on the Development Division announced that they would be tapping in the cultural zeitgeist through a bold experiment. According to TV Series Finale, the announcement also revealed that the series would premiere in the fall. Consequently, now that fall is here, the show premiered on 1st October and will be airing on Tuesdays at 10 p.m. on Bravo.
8. The participants
The series will only have four women drawn from different professionals, as the participants. One of the women is Emily; a professional pool player determined to see if her fellow male players will take her seriously. Another is Le'Dor, a mother and aspiring politician who believes she would have won a seat in the local city council election if not for the political bias. The third participant is Sabrina, a pastor who has a difficult time trying to fend for herself through the church. Finally, we have Shital, whose family insists she should be starting family, but instead Shital is focused on her career growth.
9. The women are trained for months
There are fundamental differences between men and women, and the most obvious lies in their physical attributes. With the gender transformations that people are choosing to undergo nowadays, we might be tempted to think that it is easy for a man to be a woman and vice versa. However, even "Mrs. Doubtfire" was discovered because one is bound to do something to reveal the secret. Therefore for a woman to pretend to be a man and pull it off, it has to be a skillful pretense. Consequently, the women on the series have undergone months of training facilitated by movement and voice coaches. The point is to ensure that they can comfortably be "men" for them to fit in a man's world and see what it entails.
10. Its potential impact on society
There is a belief that women should achieve as much as men, yet they have to deal with being homemakers as well. Besides, some men believe that certain professions should not be pursued by women hence make it hard for the females to penetrate such professions. The gender equality activism has been on the increase as women want to be taken seriously. With this show, the public will understand what it is like to want someone to take you seriously, yet only perceive you as a joke. It will portray how the naysayers make it challenging for those who wish to become pacesetters while also influencing us to be more empathetic to their plight. With such insight, we can all work towards leveling the playing field for men and women.