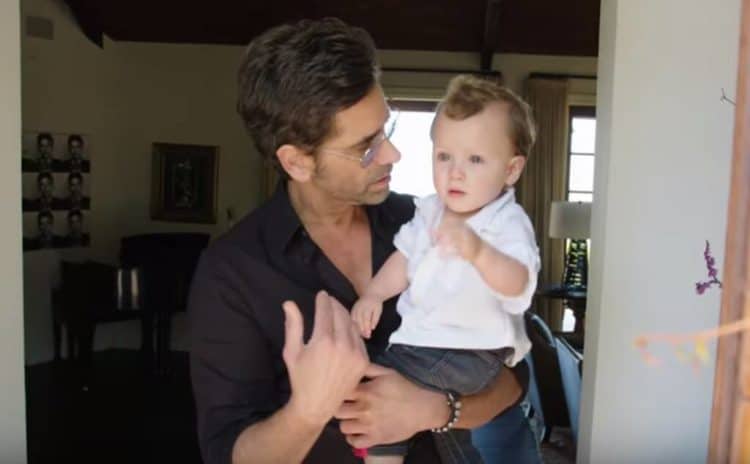 Some folks might think that John Stamos is a little full of himself but quite honestly you can hear the whole idea of being comfortable in his home, being in his comfort zone seems to bring out the talkative side of John and a sense of wonder you can't help but hear in his voice. Even Mathis Kennington of Your Tango agrees with this as he's given a whole list of reasons why even John thinks that arrogance isn't worth the trouble. His wife definitely takes over after a while and he seems willing to hang back and just let her take the lead on a few parts of the home tour which is nice because she does give a great deal of perspective. John was a bachelor for a while after all and once his wife came in things started to change, as you can imagine, and the pad turned into the home, which eventually turned into the family home when they decided to have a child.
As it might be seen with a lot of peoples' homes you might not see much of the child influence in the house but that's only because they decided to clean up in favor of not having anyone else step on or trip over an errant toy that might cause a bit of damage or irritation. Come on parents, you know better than to think that a stray Lego or other toy is just going to lie around all innocent and not cause anyone a bit of concern. But it sounds like without people over or a camera crew in the house it becomes more of a kid's house just as any home with kids living in it would be. Stamos seems to be a pretty loving father and husband but hasn't lost his slightly sarcastic mien since he is the kind of guy that will crack a joke that not everyone will get or his wife will roll her eyes at. That's married life though, you tend to put up with your significant other and their goofy ways more often than not because you love them, not because it's your cross to bear.
Speaking of Goofy, John and his wife are both big lovers of everything Disney as his personal studio, which houses music equipment as well as a few very pricey items that John managed to procure from Disneyland and Disney World reside. A head from one of the pirates on the Pirates of the Caribbean ride is found within this room, as is a can-can girl from the It's A Small World Ride. Even a piece of the Haunted Mansion made it into this room, adding to the very firm belief that John is a big lover of Disney. But if you thought that was impressive then you would need to see the fact that he has a giant Disney sign, or part of it, in his backyard as well, along with one of the carts from the Snow White ride in Disney World. To say that their home is impressive is a serious understatement, but to say that John's wife had a lot to do with how it looks now is even more so since John no doubt liked to party before getting married and as of now it sounds like most days and nights at the home is a family affair with friends and their kids thrown in thanks to his role as a family man now.
Thankfully he doesn't regret a bit of it as he's enjoyed being a husband and a father so far, as Scott Stump of Today would agree, and will no doubt continue to thrive in this role that he's taken on in life. A lot of us likely remember throughout the years that John was considered one of the more popular actors in show business largely for Full House. Now that the show is well and gone and even Fuller House is bound to be a memory for a while it would seem that he might need something else to lean on to keep his lifestyle going. But quite honestly that never seems to be much of an issue for John since people are always wanting to know more about him and what he's up to. Acting roles seem to come out of nowhere at times and peg him as a person of interest, even if they're not particularly as big as those that he used to take on. The home in which he and his family reside is well into the millions in terms of cost and you can imagine that it takes a few individuals to help keep it up throughout the year, but it's absolutely gorgeous. The view they have of the valley is nothing short of breathtaking and the serenity that surrounds the place is evidence that the family is doing well.
As Lindsey Wolf of Babble might agree he's definitely changed throughout the years, and all for the better as it would seem that John Stamos has taken to being married and being a father with a great deal of grace.