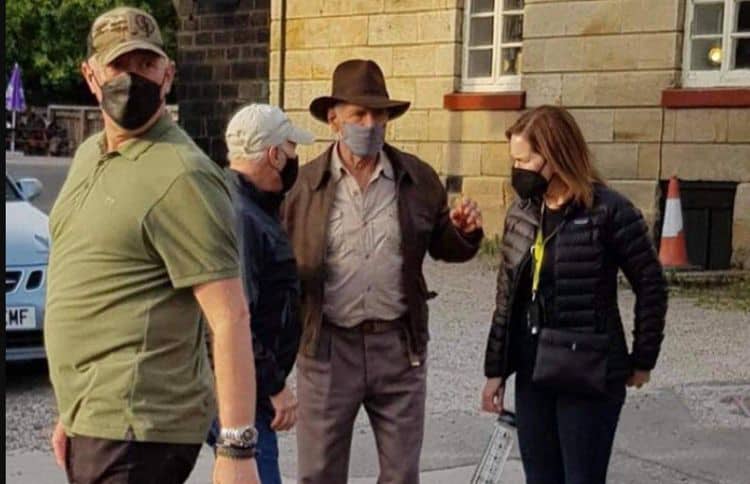 There's a lot of buzz going around about the upcoming Indiana Jones movie that will hopefully be on track to be released on time, and now it would appear that the famed archaeologist is going to be experiencing a series of flashbacks at some point in the movie. Keeping up with The Last Crusade it might be that we'll get to see him fighting Nazis once again for a few WWII flashbacks, but apart from the clip below it's not really certain. The overall feeling that's being given towards this movie is that it's bound to be a nice return to the franchise and a fitting end to it as well since unless there are plans for more Indiana Jones movies, don't rule that option out, then this will be the last we'll see of the famed adventurer for a while since Harrison Ford is getting up there in years and could easily be into his 90s by the time another movie rolls around. Again, don't think it can't happen since people in Hollywood have a way of thinking that if there's a chance, then anything is possible. Some days that's inspirational and other days it's insane.
But the fact is that for a good part of his run, Dr. Jones has been fighting against Nazis, and they've been one of the main enemies in two out of the four movies that currently exist, with the Thugee and agents of the Soviet Union rounding out the rest of the villains. It's fair to say that the Nazis and Indiana don't get along too well for obvious reasons, but bringing them back during the Space Race is an interesting direction to take this story in, kind of, since it's a move that could mire this movie in the kind of debate that some folks love to bring up simply because history is what it is and can't be changed. But with Mads Mikkelsen playing the villain that will be going up against Jones it's fair to think that the movie will be given a good deal of character that could hopefully tell the kind of story that will enable people to simply enjoy it and not preach about history at the expense of the present.
9F look particularly menacing in its guise for the up and coming new Indiana Jones film pic.twitter.com/3YESEI2oDt

— Martin Etherton (@martin_etherton) June 7, 2021
It does beg the question of how much of this movie will be kept in the present and how long each flashback will last. The very term 'flashback' kind of inspires the idea that it will be relatively quick and over with in a matter of seconds, but it's hard to say that this will happen. Given how old Jones is and how little he's bound to be able to do it's fair to say that this movie has a pretty hefty challenge in front of it. The director already appears to be stating that every effort will be made in order to bring something the fans will love. But the mere mention of using de-aging software for Harrison Ford's aging mug is enough to make a person cringe since the 'brilliant' job that so many people believe was done with Robert De Niro in The Irishman still didn't even come close to making the actor look as he did when he was younger. It's enough to ask people if they even remember what he looked like in movies such as Taxi Driver and The Godfather II. The software might be a breakthrough, but it's far from perfect.
In that light, trying to de-age Ford is bound to be a huge mistake since it already sounds like something that will come off looking absolutely horrible. Looking back at the past in this movie feels redundant since it already feels like we're looking back at the past a little too much at times. It's great to enjoy nostalgic moments and try to bring back an idea now and then that might have been popular, but people really need to realize that once an idea has been sitting for five years more, it might be too late. The gaps between the Indiana Jones movies have been far too long for one reason another, meaning that part 5 needs to be the absolute last, since it's likely that no one wants to see Indy trying to take on an adventure from the rest home.
Is Indiana Jones still popular? Well hell yes he is. But is he getting too old for this? Yes, by all means he is. The love for the franchise isn't going to go away since many of us grew up watching Indiana Jones, but there are times when those involved with an idea kind of need to understand when it's been played out. One might have thought that would have happened with the last movie, but obviously, here we are. Hopefully the movie will be better than experience is telling some of us it will be.