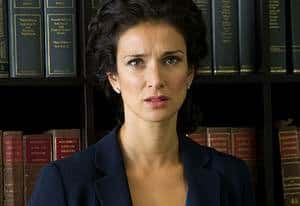 Indira Varma has spoken briefly with TV Guide about her two newest small-screen ventures.
She'll first be seen as Zoe Luther, an experienced attorney who is separated from her spouse, obsessive detective John Luther (Idris Elba), in the BBC's Luther. (Although I would disagree with the article saying she's "emotionally terrorized" by him.) Making its US debut on Sunday night at 10, this dark, twisty crime thriller is one of the best I've seen in years, in either country.
Varma said she's amused by the Stateside reception to the series, which has been overwhelmingly positive, as opposed to the initially cold reception it got in the UK. "Because of Idris, they were unfairly comparing it to The Wire and saying Americans do it better. By episode three, they loved it so much they were going insane!"
The Rome and Torchwood actress also had some minor dish about her new regular gig on FOX's Human Target, which returns on November 17. Varma plays Ilsa Pucci, a billonaire's widow who ends up buying the team after Chance and Co. save her life. What she had to say might induce some groaning among hardcore Human Target fans.
"It really needed a burst of estrogen. Ilsa is not some fluttery-eyed damsel in distress. These macho guys have to answer to her and they resent it." On the subject of a romantic relationship between her and Chance (Mark Valley), she added, "They're certainly going to tease it."
Count me among the camp that disagrees with her assessment; the show certainly didn't need estrogen to continue, although her appearance hasn't been detrimental to the series. I also have to admit that the idea of a Chance and Ilsa romance only makes me cringe. It seems both cliche and unnecessary. Having Chance swoon over somebody is about the last thing I'd consider for the fast-paced, high-intensity action series.
That said, with having to add a woman to the show, they couldn't have done any better than Indira Varma, who's proven to be a reliable actress in Rome, Torchwood (she played the villainous Suzie Costello) and The Whistleblowers.
What do you think? Are you excited for Luther? Dreading the idea of romance in Human Target? Leave your thoughts below. Don't forget to check back as I will be bringing you episode-by-episode coverage of both Luther and Human Target – two shows you definitely shouldn't miss.