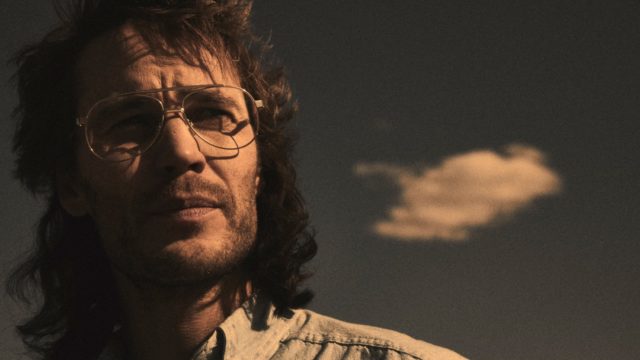 It's common to see celebrities transform themselves physically to really get into character. From Christian Bale nearly starving himself to death over his starring role as Trevor Reznik in "The Machinist" to Charlize Theron's nearly unrecognizable turn as Aileen Wuornos in "Monster," we're used to seeing our favorite Hollywood royals morph into someone else. Yet, sometimes there comes along a role that requires an actor to delve deeper than hair and makeup trickery and truly integrate him or herself into the emotional world of the character to play a convincing part.
Such was the case for Taylor Kitsch as he embarked on his career-changing role of religious sect leader David Koresh in the six-part miniseries "Waco," which aired on the Paramount Network (formerly Spike TV) from January 24 through February 28. For fans of Kitsch, Â who is best known for playing troubled teen football player Tim Riggins on NBC's acclaimed "Friday Night Lights" from 2006 to 2011, the role was a slightly unexpected one. Yet, two minutes into the Waco pilot and it becomes glaringly obvious that no one could be better suited to play the quietly calculating Koresh. Mixing the broodiness of Riggins with a gentle soft-spokenness, he plays the role brilliantly, though it took a little while for Kitsch to enter the mental space required to truly get into character.
In a recent interview, he reveals that he blocked off a four-month span at the beginning of 2017 with the sole intent of preparing for the role. Only 12 when the actual events at Waco unfolded, he admitted to being familiar with the situation, but only vaguely so. For the uninitiated, the "Waco" series is based around a 51-day siege that occurred in 1993 when federal and state law enforcement agents sought control of a Waco, Texas compound occupied by Koresh and followers of the Branch Davidians religious sect.
With a childhood based in Canada, Kitsch was somewhat removed by both age and geography from the real-time events. As such, when it came time to prepare for the role, he found himself delving into historical records and plenty of research, figuring out who he was playing and what characteristics he'd need to highlight in the role. His main priority was to leverage the art of storytelling to portray Koresh as accurately as possible while providing viewers with enough fodder to compel them to tune in again week after week.
To get there, Kitsch worked closely with acclaimed directing duo the Dowdle brothers (John Erik and Drew) to immerse himself in the character. A top challenge was how to essentially "become" Koresh while still struggling to understand who he was and why he did what he did, reconciling Kitsch's personal morality with this person so shrouded in controversy.
So, he started at the beginning. Kitsch learned as much as possible about Koresh's childhood, his parents, and the neglect that shaped his past. When questions arose that he couldn't work past, he'd call John Dowdle to discuss, and the two would often reference the two major books published around the event, "A Place Called Waco" by survivor David Thibodeau and "Stalling for Time: My Life as an FBI Hostage Negotiator" by FBI agent Gary Noesner. Other reference materials included Koresh's personal letters, sect recruitment tapes, phone call transcripts, and more.
As he studied, Kitsch tried to understand how Koresh became who he was, what he believed in, and how he reached the fate that ultimately befell him. Though the initial assumption is that every scene with the main character in it would be full-on crazy, Kitsch explained that to do so would turn off the reader and do a disservice to the story as a whole. Rather, he let the story build on itself and tried to reveal the multiple layers underneath the protagonist and those whose stories intersected with his.
The result? A portrayal so realistic, convincing and complex that you're dedicated to the entire six parts as soon as you begin. Playing someone with associations like those linked to Karesh was undoubtedly a difficult and laborious journey, but Kitsch travels the road well. I think it's safe to say Riggins has graduated into the big leagues.