On June 8, 2010 the Arclight Hollywood Cinerama Dome was filled with True Blood stars for the red carpet season 3 premiere of the HBO hit series. If you've never been to a red carpet television event as a fan in the pit…this is your mini guide to what happens.
First, you will get some snacks to fill your purse or backpack because it is going to be a long day. Bringing along music and/or a book also helps make the time go by faster. If you are a die hard fan, you'll arrive early, let's just say 10am since that is what the first fans who arrived for this event, Kristin and Jen did. Otherwise, you will arrive when the red carpet is being set up, usually in the afternoon. Here's what the set up looks like: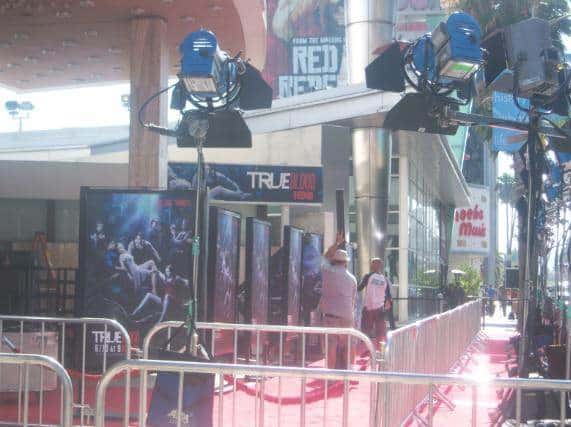 Then after a few hours, say 4 or 5 hours from noon time (sometimes standing on your feet for all of this time), a few things will happen. First, the red carpet gets vacuumed. Next, the publicity team marks where the members of the press will stand for red carpet photo coverage and interview coverage. Lastly, the press arrive to check in, set up, and wait just as the fans are waiting…for the stars to arrive.
Recognize him? Why that's Alexander Skarsård, better known as Eric on True Blood. He is just one of the many stars who came over to greet the fans. The difference between him and everyone else is that women of all ages in the fan pit were screaming very loudly, moaning, and shaking uncontrollably when Alexander arrived. When he walked over to the fan pit, chaos ensued. People were knocked over and some fans were jumping over each other to get to him. It is quite astonishing to see firsthand the fan girl experience, no matter how many times you have seen this happen. Thankfully, no one got hurt. But sometimes it is not so pleasant, so be warned. Here's True Blood creator, Alan Ball visiting the fan pit: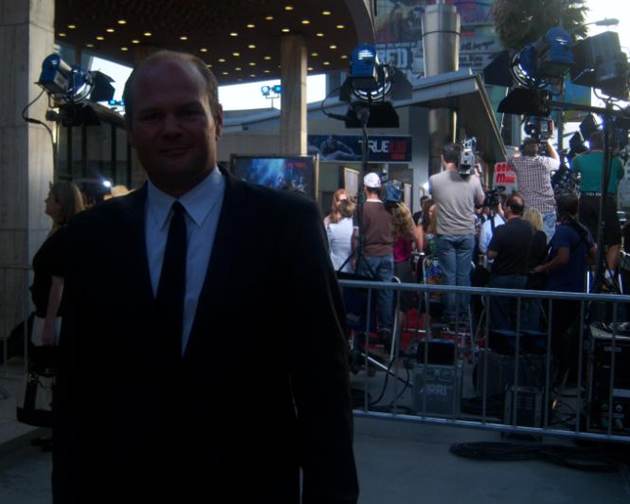 Other stars on the red carpet included Charlaine Harris, Anna Paquin, Stephen Moyer, Jim Parrack, Sam Trammell, Ryan Kwanten, Rutina Wesley, Nelsan Ellis, Deborah Ann Woll, and Adina Porter, just to name a few. Many newcomers for season 3, including a hot new werewolf also showed up to the event.
The best part about attending red carpet premieres is taking photos like these…
Fans should know that every actor of the television show that is being premiered may not be able to come over to the fan pit area. Those that are able to come will not be able to accommodate everyone due to time restraints. If you can accept that, you will have a great time going to these events. Also, the best part about the True Blood premiere event was that the fan pit was actually a pit full of fans and not a pit full of unruly paparazzi giving the fans a run for their money in meeting the stars.
Though every red carpet event must come to an end sometime. So after almost 2 hours of photo snapping and for many, autograph signing, it is time for – sometimes past the scheduled time for the screening to begin. All of the stars that are still on the red carpet or are still greeting fans are shuffled into the theater to watch the finished product of their hard work. While the fans head home and wait a couple of more days to see what has already been seen by quite a small number of people. I have read that the Season 3 premiere of True Blood is a good one. So I am anticipating the premiere very much and attending the red carpet premiere as a fan in the pit was just the icing on the cake of the anticipation.
So how about it? Will you be a fan in the pit at a future red carpet event?
True Blood Season 3 premieres Sunday, June 13, 2010 at 9pm on HBO.