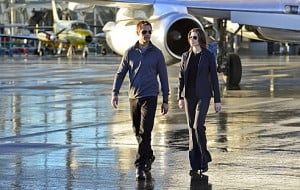 LOST's Josh Holloway and Once Upon a Time's Meghan Ory come together to star in CBS's new drama Intelligence.
Holloway stars as Gabriel, a high-tech intelligence operative who possesses a super-computer microchip in his brain. Gabriel is the first ever human to be connected to the Internet via his brain and can also access the WiFi, telephone and satellite networks. His skills allow him to hack into data centers and access intelligence to help protect the country from its enemies.
"Leading the elite government cyber-security agency created to support him is Director Lillian Strand (Marg Helgenberger), a straightforward and efficient boss who oversees the unit's missions. Strand assigns Riley Neal (Meghan Ory), a Secret Service agent, to protect Gabriel from outside threats, as well as from his appetite for reckless, unpredictable behavior and disregard for protocol.  Other skilled members of the Cybercom team include Chris Jameson (Michael Rady) and Gonzalo "Gonzo" Rodriguez (James Martinez), two resourceful federal investigators. The brains behind the design of the chip is Dr. Shenendoah Cassidy (John Billingsley), whose son, Nelson (PJ Byrne), is jealous of Gabriel's prominent place in his father's life. As the first supercomputer with a beating heart, Gabriel is the most valuable piece of technology the country has ever created and is the U.S.'s secret weapon."
Intelligence will air on Monday nights at 10:00 p.m. ET/PT beginning midseason. You can view CBS's full 2013-2014 schedule here.
[youtube=http://youtu.be/Oz1vtciSRYc&w=540&h=385]