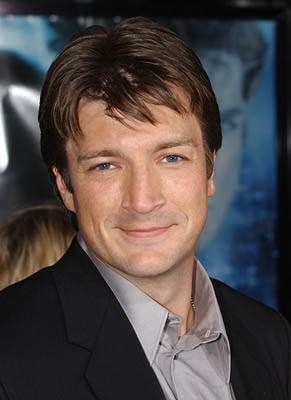 Although Nathan Fillion has been showing it up in television and movie roles since the early nineties, it wasn't until 2002 when he made a friend in Hollywood that would help carry him into cult fandom. That man was Joss Whedon, and Fillion was given the lead role as Captain Mal Reynolds of the Firefly class spaceship Serenity. Fillion would go on to show up in five episodes of Joss's first hit show, Buffy the Vampire Slayer, the Firefly movie, Serenity, and last year found his way in a new cult web classic from Joss called Dr. Horrible's Sing-A-Long Blog as Captain Hammer. In between Fillion managed to show up in an episode of Lost (as Kate's husband) and in eleven episodes of Desperate Housewives as a doctor married to one of the women on Wisteria Lane. It was only a matter of time before Nathan Fillion landed his own series, and it came in the form of Castle, an ABC police-mystery procedural that debuted a couple of months ago.
Although the series ratings haven't been terrible, they haven'˜t been staggering either, leaving Castle on the bubble for renewal. What's more, Castle works because of the fantastic tension between the two characters that always seems to over-power any chemistry or connection they might feel. It's been historically difficult to juggle shows like this, ensuring that the audience feels the characters are changing and growing all the time, while still managing to keep them apart. Castle's season finale is tonight at 10/9c on ABC, and I recently had the pleasure to speak with Nathan Fillion and ask him about some of these concerns, and get his feedback on exactly what is motivating his character, Richard Castle, into continuing to stay at the NYPD for so long.
'…his reasons are both professional, because he is getting a lot of research and rather than making up murders he's actually researching real murders and how cops really do find the killer. And at the same time he's personally invested because he's certainly attracted to Kate Beckett. In her he sees this very attractive, very sexy, very intelligent woman who is good at her job and at the same time won't be taken by his charm…all the tricks. She won't be fooled by all the stuff that typically works for Richard Castle.'
Fillion also went on to say that he sees Castle as 'a guy that would try to trick a woman into bed, charm her up and off she goes.'It's obvious that the ensuing chase of Det. Beckett is a strong motivator, as Castle isn't used to being turned down, and he's certainly the type of character that enjoys a challenge and never gives up. But at the same time it is obvious that Det. Beckett does have some interest in Castle, and is even a fan of his books. So how will a show where the characters obviously both have an attraction to one another manage to keep them apart season after season?
'You know I think one of the saving graces in keeping that tension going is that these two characters are so diametrically opposed, star-crossed, if you will, Kate can't allow herself to let go. She's just so guarded. That's a character flaw,'Fillion said of his co-star's character. 'At the same time Richard Castle doesn't know when to quit. He doesn't know when to shut up. He's very self-serving and selfish. He just doesn't seem to…he's unapologetic about being himself and enjoying himself and its sort of admirable, but you know at the same time, shut up. Just shut up dude. It's sort of like watching the Office, and trying to tell Michael Scott, '˜you've gone too far, stop right there."
To Castle's credit, his relationship with his daughter shows him in the only truly nurturing, loving, functional relationship with a female he has in his life, which so which also works against the image that others seem to have of him.
As for the progression of the relationship between Castle and Beckett, Fillion added that, 'it's like he's dating Kate Beckett because he's lost all interest in other women. He's only interested in Kate Beckett. He's not really chasing anybody else down.'The show has already introduced a past love interest of Kate's that made for a nice love triangle episode, and Castle also has an ex-wife who is sure to pop in and stir things up, should the series get renewed for a second season.
Fillion also commented on his success, saying, 'I've been so fortunate, and by no coincidence I've been fortunate due to Joss Whedon.'
Joss Whedon has his own cult fan club that awaits anything and everything he does, and Fillion has become a part of that world in characters such as Mal Reynolds and Captain Hammer. But will longing fans ever get to see Fillion portray those characters again?
'Ah, you know I think the chances of Captain Hammer are going to be much better than Captain Reynolds. But…ah…if either one gets another chance to breath, I'll be there breathing.'
Does this mean we'll definitely be seeing Dr. Horrible's Sing-a-long Blog, the sequel? Of course not, but even Fillion has hopes for a return as Captain Hammer, and that's something. We also know that Joss is definitely interested in doing a sequel, the question just becomes what, when and how.
Finally, with the season finale of Castle airing tonight, and the fate of the show not being determined for another week at ABC's Upfront Presentations, is the Castle star nervous and biting his nails over a second season?
'You know what, I always say that whatever I have control over, that's what I'll worry about. I gotta know my lines, I gotta be prepared. I'm the one making the choices, I'm the one trying to breathe life into a character. Those things I control. Beyond that, once my job is done, I try to let it go. '˜Cause there's really no sense in pouring over the ratings. I have no control over that. There's really no sense in biting my nails until I find out. I just know don't go be making any major purchases on my visa before I find out if there's a pickup or not,'Fillion said.
Sound financial advice for us all to live by, no doubt. You can catch the season finale of Castle tonight on ABC at 10/9c and ABC should announce their Fall Schedule on May 19th.