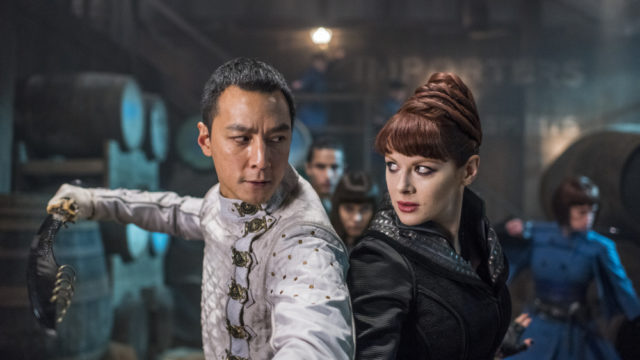 We're into the third season of Into the Badlands' post-apocalyptic world so far, and we'd have to say that we've been more than impressed. AMC's "genre-bending martial arts series" has so many stories to tell; it's definitely more than just an action-adventure series. It's only gotten better with the progress of the seasons, and we believe that the show still has a few years to go. However, when the end of the series does come, the show's stars will surely have more to look forward to in their careers. We believe that the following Into the Badlands cast members will have the most success after the series.
Daniel Wu
He's supposed to be the best fighter in all of the Badlands, and we very much believe that he is. Wu has portrayed his role of Sunny so well that we can't help but feel his connection to his character. It's definitely intoxicating and compelling. Wu has had a fairly impressive career in action before Into the Badlands, and we believe he'll be continuing that track after the series is over.
Orla Brady
International actress Orla Brady may not be big in the American market, but she's been doing steady work in the last few years. Brady plays Lydia, the Baron's first wife and most loyal follower. Brady somehow manages to balance her strength and weaknesses so well; she captures Lydia's moments with such careful intent that it's hard to imagine Brady playing anyone else. However, she does and does so well. Brady's latest film project was 2017's The Foreigner, which starred Jackie Chan. We can foresee a future filled with roles in movies like that.
Aramis Knight
This young actor surely has a promising career ahead of him. For being a young actor, Knight has already done some pretty impressive guest TV roles. He's done work in mainstream shows such has Royal Pains, The Mentalist, Scorpion, Psych, and so many more. His role as M.K. on Into the Badlands only proves that he can handle heavier roles now. We can predict a few movie roles, bigger than his role of Bean from Ender's Game. We also predict lead roles in television shows soon.
Emily Beecham
English actress Emily Beecham hasn't been around long, but she's already paving the way for a memorable career on television. She's had plenty of good guest roles in the past, and she's even had roles in a couple of movies including 28 Weeks Later, The Calling, and a few others. She played the title role in the 2017 film, Daphne, and she did so very well. After she's done playing The Widow on Badlands, we'd like to see her in more Daphne roles, and we think it's not that far of a stretch at all.
Ally Ioannides
Ally may be another new face, but we believe that she's got the talent and potential to have a long and fruitful career on television. Most of the jobs she's done so far are on television, and we can imagine her doing something more substantial than her role as Tilda in Badlands. With only 16 acting credits under her belt, Ioannides still has a way to go, but we can tell that she'll be able to handle it all as it comes.