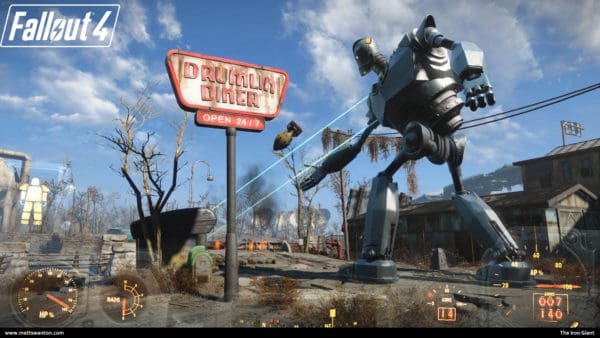 If you're interested in making Fallout 4 super fun again then look no further than Matthew Swanton.   You'll know that in Fallout 4, Liberty Prime is one of the biggest characters in the game.  But what if Liberty Prime was replaced?  Swanton decided to replace Liberty Prime with none other than The Iron Giant.  For those not familiar, The Iron Giant was an animated film that I personally think went under the radar.  Despite being shot past the year 2000, the movie had a very 50s and 60s Disney style animation.  It was a great tale of an "alien" Iron Giant who was actually just a sensitive sweet being but perceived as a huge threat by some.
This mod allows you to make The Iron Giant the huge threat come to life.  You can reap carnage on everything and be twice the size of buildings.  Game mods are nothing new but each time we see something like this we become more impressed.
The Iron Giant mod is currently available at NexusMods.
Enjoy the video below: