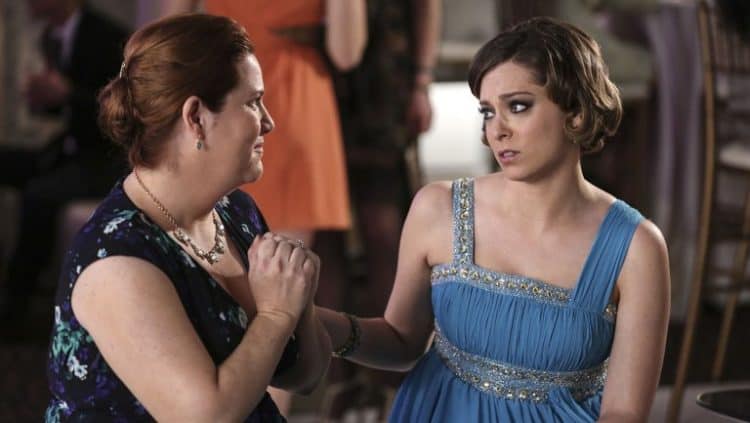 Riotous and fun, Crazy Ex-Girlfriend is getting set to air it's final episode next month, but is this really the end? Well, not entirely. In fact, the show is set to do a special directly after the final episode. The Yes, It's Really Us Singing: The Crazy Ex-Girlfriend Concert Special! encore seems all too apropos given the incredible dynamic performances over the last few seasons and in light of the brief discussion of doing a full-fledged stage musical version of the show.
Musical Hilarity
Perhaps in a world of Galavant and Pitch Perfect someone finally realized that the medium of song and dance was good for more than just telling G-rated fairytales starring animated princesses. Fans Of Crazy Ex-Girlfriend certainly weren't tuning in for the idealized stereotypes promoted by previous generations. A stage adaptation may be overdue for this adult musical genre. Will Aline Brosh McKenna and Rachel Bloom be the ones who finally bring it to us?
Part of the brilliance of the show has always been in its ability to indelicately avoid walking the line between not enough and too much. Clearly, the writers rather prefer to dance right over it in heels and brazenly approach the ridiculous and inappropriate decisions people make about love and their often hilarious results. Poking fun at the sheer insanity of what some people think is a grand romantic gesture while singing gorgeously is a talent. Doing so while still not shying from how ludicrous and wrongheaded it is to try and live your life as though TV tropes might just work in lieu of common sense is extraordinary. Though fans will be sad to see it go, it has certainly been worth the ride.
From not becoming a lawyer to when to go buy way too many cats, the inspired song and dance hits have kept us clutching our sides over four brilliant seasons we will be binge-watching whole seasons for years to come. It's rare for a show to have the final season expanded and rarer for a publication as prestigious as the New Yorker to call for your final season to be novelized.
Other Venues
The live stage shows have gotten amazing responses from the loyal audience who turn out in droves for Crazy Ex-Girlfriend live shows. So much so that the cast has been invited to perform at Radio City Music Hall. Anyone who's actually seen the show can attest that Rachel Bloom and Aline Brosh McKenna, the fearless creators, surely deserve as many encores and spinoffs as they can book.
While Bloom was recently asked what she'd see as a reboot in a few years, and responded that she already had a pitch, the more serious topic of a full stage show also came up. Apparently, the co-creators had briefly discussed the idea. They've come to the conclusion that it would be a huge undertaking and require more time than most audiences would be willing to sit for (Bloom joked about 55 hours). If any audience was ever so loyal, theirs might be the one, but all jokes aside, it doesn't really answer the question about whether there could be a Crazy Ex-Girlfriend musical in the future.
The best clue is in another comment she made at Paleyfest. She indicated that most of the cast may already have begun booking other jobs. In the fast-moving worlds of musical theater and TV, that means it's unlikely that a musical is in the works. While it's always possible to re-cast, much of the magic in the already well-cast series would likely be lost in trying to do so.
Final Thoughts
Sometimes, even when we are seriously loathe to do so, the time comes to let something go. It's rare for an audience to become so attached to a show the live tour is sold out. However, the final episode is coming and the cast and creators are preparing to move on. They won't try to milk it for more seasons until the joy goes out of what they created, and unfortunately, the offhanded comment about a musical appears to be just that.
Whatever the case, if you have yet to see all four seasons and the 150 or so songs they produced, you have missed out on one of the best shows that's come out in recent years and you should remedy that right away. There's still time for you to cram every episode in time to watch the grand finale if you hurry. Should the creators change their minds, you can be certain that at least a few performances would be standing room only, and whatever they have up their sleeves for the last episode is bound to be amazing.