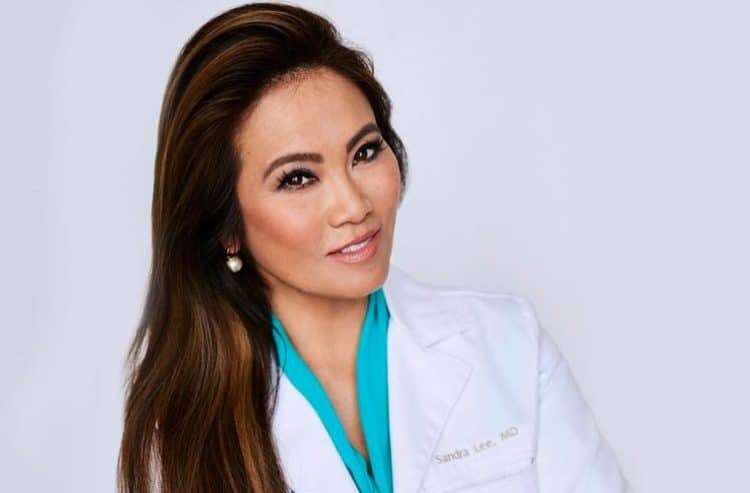 The thought of watching someone pop a pimple is probably enough to gross some people out, but there are a lot of people out there who have actually found comfort in the sight of blood and pus. Over the last several years, California based dermatologist, Dr. Sandra Lee has become a celebrity for her ability to pop even the toughest pimples. Now known as Dr. Pimple Popper, Dr. Sandra Lee initially rose to fame on YouTube and eventually earned her own show on TLC. Her skills and professionalism aren't the only thing that people love about her, though. Dr. Pimple Popper's ability to be kind and compassionate have proven to be two of her most important qualities. With everything that's been going on in the world lately, she has become a surprising source of positivity. Is Dr. Pimple Popper really what society needs right now? Keep reading to find out.
Who Is Dr. Pimple Popper?
Dr. Pimple Popper isn't just a celebrity, she has the credentials in real life to back it up. She was born and raised in Queens, NY to Chinese parents. Her interest in the medical field started at an early age thanks to her father who is also a dermatologist. After high school, she enrolled at UCLA and worked part-time for a local allergist. After earning her bachelor's degree, she moved to Philadelphia where she attended medical school at Drexel University. Although she knew she wanted to be a doctor, she wasn't entirely sure which speciality she wanted to study. After hearing that dermatology was one of the most competitive, she knew that was the path for her. She told Insider, "I wasn't the strongest in my class either, but I was very competitive. I realized I had this mentality that if somebody says they don't think you can do something, then I want to try to do it."
The hard work that she put in over the years certainly paid off. Dr. Pimple Popper graduated from Drexel in 1998 and eventually relocated to the west coast. She currently works at Skin Physicians & Surgeons alongside her husband, Dr. Jeffrey Rebish. She is board certified member of the American Academy of Dermatology, the American Academy of Cosmetic Surgery, the American Society for Dermatologic Surgery, and the American Society for MOHS Surgery. Dr. Pimple Popper started her YouTube channel in 2010, but it wasn't until several years later that her content started to take off when she also started posting on Instagram. Her channel now has 6.8 million subscribers and more than 2.2 billion views. There's no doubt that she is one of the most sought after dermatologists in the country.
In addition to treating patients, in her office Dr. Pimple Popper also started a skincare line in 2019 called SLMD. While talking to Insider she said, "One of my main priorities through this whole time, from the very beginning, was really to show people how amazing dermatology is, and that we are so much more than pimple poppers."
Why Dr. Pimple Popper's Content Is Just What The World Needs
Like most people, Dr. Pimple Popper has had to make some adjustments amid the COVID-19 pandemic. In September 2020, she started a spin-off series called Before the Pop in which she connects with patients via video chat and helps diagnose issues with their skin.
During each episode, Dr. Pimple Popper takes lots of time with each patient to help calm their nerves and explain her advice as thoroughly as possible. Since we all know that going to the doctor can be a stressful experience, it's nice to see her be so compassionate with her patients. Even though most of the issues involving people's skin aren't life threatening, they can still cause people lots of stress and anxiety. Many people who come to see Dr. Pimple Popper are also dealing with things that have negatively impacted their self esteem. No matter what is going on with a patient, Dr. Pimple always approaches each situation with kindness.
Sometimes joy comes from the strangest places, and Dr. Pimple Popper and her content are proof of that. Who would've ever imagined that watching random people get their pimples popped could be something that could make other people feel better? If you think you have what it takes to stomach a video of someone getting a pimple or a cyst removed, you should definitely check out her content. Not only will you find her bedside method soothing, but you'll probably also find that pimple popping can be oddly satisfying.