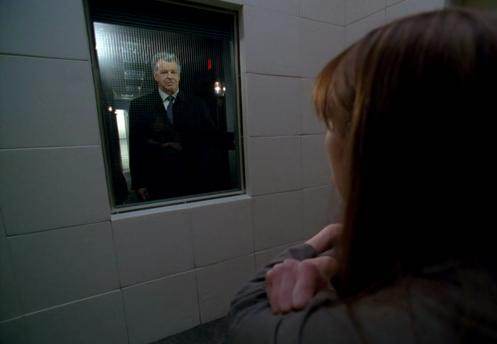 Season one of Fringe can only be described as procedural. Sure, each case was connected by the thread that was the Pattern, but for the most part, we were treated to stand-alone cases that were like CSI plus melting brains. That's not a bad thing by any means; Fringe was so well-written and had strong enough characters that each episode was a clear development on the last, making for a brilliant season.
Season two changed up that dynamic, and began to throw in more polarized episodes. Some were more standalone ("Fracture," "White Tulip"), while others were deeply routed in mythology ("Jacksonville," "Over There"), and one didn't even have a case ("Peter"). That's when the series really hit its stride critically, and became one of the best shows on television.
Season three looks to change up that dynamic even further, it appears. Sources claim that, with Olivia trapped in the alternate universe by Walternate, we're going to have alternating episodes throughout the first half of season three. By alternating, we mean that the first episode will be set Over There, while episode two will return to this universe, and so on and so forth.
This dynamic will spell very big changes for the show creatively. It assures us one thing: Olivia will be trapped in the alternate universe for a while. It also assures us something else entirely: Joshua Jackson will only be appearing in half of the episodes during the first part of the season. Unlike the other characters, Peter Bishop does not have a double in the alternate universe, so he can only be present in the episodes that take place Over Here. However, Walter, Astrid, Broyles, Nina, and Olivia will have more frequent appearances.
Conversely, actor Kurt Acevedo will be returning in a larger role this year than he had in season two. Though this universe's Charlie Francis was killed by one of Newton's soldiers in "A New Day in the Old Town," Over There's Charlie Francis is still hanging in there. Francis will likely be appearing in the episodes that Jackson doesn't, though whether Acevedo will be re-admitted to the main cast is still unknown.
Fringe will return on September 23 with season three.