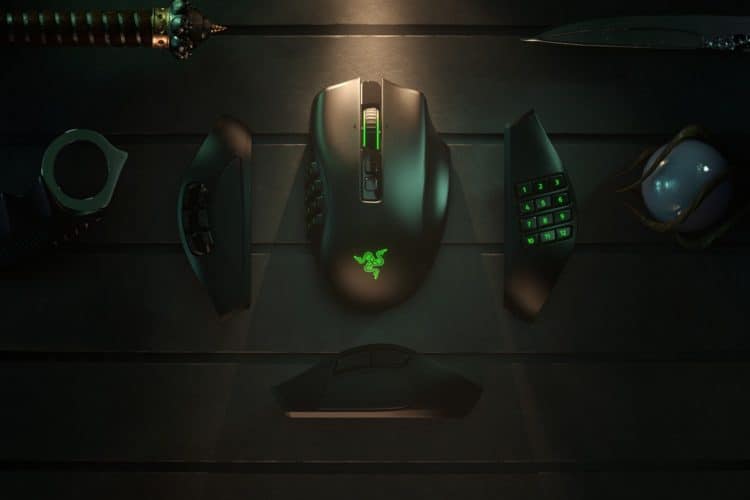 Razer is one of the biggest names in gaming and it looks like they just keep getting better and better with the Razer Naga Pro gaming mouse. The Naga Pro is a gaming mouse that is fit for all sorts of players with customizable options fit for any game ranging from first-person shooters like Destiny 2, to battle royales like Fortnite, to MMOs like Final Fantasy XIV, this is one of the most unique gaming mice that I've ever seen. So what about the Razer Naga Pro makes it so unique? Why should you pick this gaming mouse over any others? Is the Razer Naga Pro going to be the right fit for you? Well, that's a bit of a complicated answer, so let me break it down for you. For full disclosure, Razer did send the Razer Naga Pro out to me at no charge, but as always this has no affect on my opinion of the product whatsoever.
Side Plates
The Razer Naga Pro is just like any other gaming mouse – except it's not. It comes with three different swappable side plates, each with their own designated function.Each of these side plates are able to be popped off and replaced without the need of any tools as they are held in place by some pretty powerful magnets.
12 Button
There's your 12-button side plate which is generally geared towards MMOs like Final Fantasy XIV or Guild Wars 2, in which you need to have a lot of programmable hotkeys within a very short distance. There's a lot of buttons that can be bound (default binds:  0-9, '-' and '=') to various keys, and this will most definitely come in handy in a Final Fantasy XIV raid. For me, this is just a few too many buttons and I find myself accidentally pressing quite a few of them just when I'm trying to hold onto the mouse, because they're very easy to actuate. However, Razer makes it clear that this is very much a side plate that leans more towards buttons rather than grip.
6 Button
The 6-button side plate for the Razer Naga Pro gaming mouse essentially gives you the best of both worlds when it comes to the amount of buttons available and the amount of grip on the mouse. It includes 6 buttons, as it says in the name, and is generally designed to be used for battle royale style games like Fortnite and Warzone, and MOBAs like DOTA 2 and League of Legends. Personally, I like this one a whole lot more than I do the 12 button plate, simply because it provides me with enough grip to be able to hold the mouse without pressing a few buttons every time I adjust my grip on it.
2 Button
The 2-button side plate is by far my favorite of the three, because it gives me exactly what I need (as I typically play FPS games), and I usually only require 2 buttons on the side of my mouse. This provides me with the best grip and I really feel in total control of the mouse when I move it around. This side plate is geared more towards first person shooters like Call of Duty and Destiny, and does exactly the right job for these games, since there's not a ton of abilities or items you need to constantly use.
Overall, I could see myself swapping between the 2-button and the 6-button plates quite often, and I think I would probably use the 6-button plate to play Outriders, whereas I would probably stick with the traditional 2-button plate for Destiny 2.
Connections
The Razer Naga Pro comes with a couple of different options to actually use the mouse; you can choose to use it either through a wired connection, or wirelessly. Typically, if you're going to be gaming competitively, you would want to have a wired mouse to eliminate any form of latency that could give your opponent any sort of the slightest edge at all, so the Naga Pro is great for that. However, if you're not really into esports or you don't mind a little bit of potential latency, the Razer Naga Pro offers a wireless connection option in the form of Bluetooth and Razer's signature HyperSpeed Wireless connection, that eliminates lag and latency. If you're opting for a longer duration for your battery, you'll want to use the Bluetooth connection, or you can plug the Naga Pro in to charge it while you play. If you're looking for the USB dongle that plugs into your PC (or perhaps the USB 3.0 passthrough on your new Razer Huntsman V2 keyboard), you'll actually have to remove the stock side plate from the mouse and you'll find it at the top (I was looking for so long before I realized this is where it was stored!)
Battery
The Razer Naga Pro is rated for up to 150 hours of battery life, however using Razer HyperSpeed Wireless will drain that a bit faster, so again if you're really looking to optimize your battery – stick with wired or Bluetooth.
Specs
Now it's time to get into the technical parts of the Razer Naga Pro:
Form Factor: Right-Handed
Connectivity: Razer HyperSpeed Wireless, Wired Speedflex Cable, Bluetooth
Battery Life: Up to 15o hours
RGB Lighting: Razer Chroma RGB
Sensor: Optical
Max Sensitivity (DPI): 20000
Max Speed (IPS): 650
Max Acceleration (G): 50
Programmable buttons: 10/14/20
Switch Type: Optical
Switch Lifecycle: 70 million clicks
On-Board Memory Profiles: 5
Mouse Feet: 100% PTFE Mouse Feet
Cable: Razer Speedflex Cable
Tilt Scroll Wheel: Yes
Sizes:

Length x Grip Width x Height

4.69″ x 2.93″ x 1.69″
119mm x 74.5 mm x 43 mm

Weight: 0.257 lbs / 117 g (Excluding dongle)
Razer Mouse Dock Compatibility: Yes
Thoughts?
So, what do I think of the Razer Naga Pro? Well, I have pretty big hands, so when it comes to gaming mice I need a pretty big mouse (before the Naga Pro, I was using the Corsair Nightsword.) I was a little unsure of how I would feel about the Naga Pro, because it definitely does not look like a big mouse, and while I do still like the thumb-rest on the side of the Nightsword – which is missing on the Naga Pro – I have to say I'm thoroughly impressed. The grip feels great with both the 2-button and 6-button side plates – not that the 12-button feels bad, but it's just not really for me – and even wirelessly it feels really responsive. If I were to really complain about anything on the Razer Naga Pro, I think I would love a thumb-rest on the side and an option for a free-scrolling scroll wheel. The Logitech G502 still has the best scroll wheel that I've ever used, simply because of this feature alone. If Razer can make a mouse that is just like the Naga Pro combined with the Nightsword and the G502, it would be an instant winner for all players. I would absolutely recommend picking up the Razer Naga Pro (or even the Left-Handed version, if you use a left-handed mouse) even at $149. Of course, if you're on a budget and don't necessarily need all of these fancy options, then I would probably suggest you come back to the Naga Pro at a later point, but if you are looking for something that is feature heavy with a solid battery life, the build quality alone makes this mouse feel worth that investment.