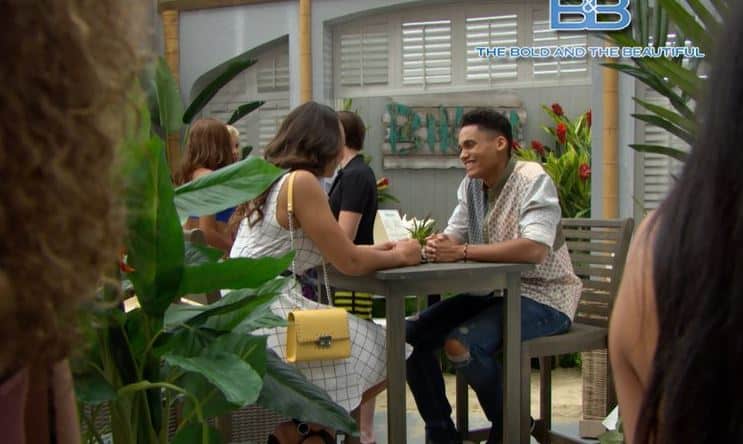 The Bold and the Beautiful fans are loving every single moment of seeing Sally and Wyatt with one another. She's in such a dark place trying to get herself out from under a cloud of suspicion now that everyone thinks she is the one who is threatening Hope, and Wyatt is so there for her giving her the kind of sweet pep talk that we just love to see. They are such a cute couple, and fans are eating it all up. He has given her a pep talk and so many sweet words, and she's always left feeling a little better after talking to him. He's good for her. But that's not all. We know that Maya is not feeling good about Xander, and Emma is not making things easier on anyone by not sharing what she's learned from him and what he told her when he opened up to her.
We also saw more of Thorne and Katie. They are working together to find out who is behind all that is going on with Hope and her threats, but they are clearly using this as an excuse to spend more time together in an innocent manner. They are fooling no one but themselves at this point, and we are enjoying it. They want to believe it's Sally, but we don't think it is. And we love seeing Katie a little jealous that Wyatt has found someone his own age who is far more appropriate for him. He and Katie were fun while they lasted, but we knew that he was never going to create a real life with someone that much older than him — and someone who was once his stepmother for a while. However, her envy is getting the best of her in this situation, and it is fascinating to watch unfold.
What is Happening on the Bold and the Beautiful
Our #WCW this week is the fabulous @KatherineKellyL! Tell us what you love about her. 😍 #BoldandBeautiful pic.twitter.com/rQpU0vGURj

— Bold & The Beautiful (@BandB_CBS) July 11, 2018
We all love a good woman crush Wednesday, and we just aren't all that surprised that the show chose Katherine Kelly Lang to be theirs this week. She's the amazing Brooke, whom many of us feel is all kinds of wrong right now. She's a woman who believes she can — and will — do anything she wants, and that's what we have to deal with. She's got a lot of stuff going on, and we can't figure most of it out right now, but she's still amazing. What's your favorite thing about her?
What's Next on the Bold and the Beautiful
TODAY: Maya calls in Julius about Xander's behavior and then summons Xander to Forrester. #BoldandBeautiful pic.twitter.com/YDTIBBwBIv

— Bold & The Beautiful (@BandB_CBS) July 11, 2018
Today brings with us a chance to see some brothers work together. Liam is so stressed about his current situation. His fiancé is ready to get married (again) and create the perfect little family with their newborn daughter. However, the woman whose wedding to him was interrupted just a few weeks ago is pregnant with his other baby at the moment. He has no idea what to do, and he is going to ask his brother for help with this one. And this is going to be interesting given the fact that they've both been married to these women Liam can't seem to handle his life with. Wyatt, however, is always a class act who will set his brother along the right path and help him make the wise decision. Wyatt is so good to Liam, and we don't understand that so often.
And then there is the fact that we are going to see both Hope and Steffy make it their mission to fight for Liam. Once again, Hope feels she is entitled to have a marriage and a life with him. Now that she's pregnant, she's decided her own baby and their relationship is more important than the fact that he has a newborn daughter and another woman with whom he is in love. This is becoming all the more interesting to us, and we can't figure out what is going on with this. She has to back off, but she's not trying to. She knows she needs to find someone better for her.
Stay tuned for more The Bold and the Beautiful and be sure to check out TVOvermind daily for the latest The Bold and the Beautiful spoilers, news, and updates.