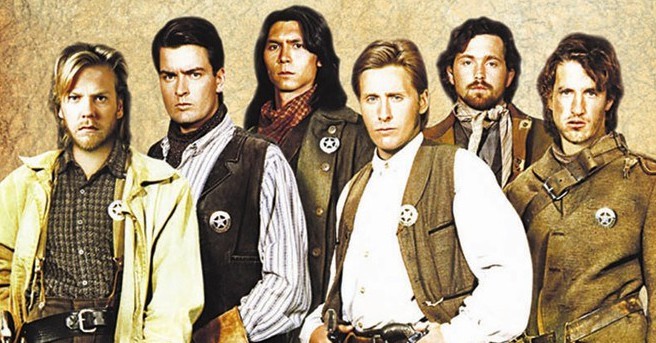 There are some ideas that can be given the benefit of doubt since they might actually work out if people look at them from a certain perspective. But from a historical and even reasonable perspective, it's more likely that another Young Guns movie SHOULDN'T happen since like it or not, all of the key characters are dead and gone, and the last movie ended with Billy trying to gain a pardon but not being believed, much as it happened in the real world. On top of that, despite how entertaining it was, Young Guns mangled the story of Billy the Kid in such a huge way that historians manage to get a good laugh out of the tale given that things just didn't happen this way as far as records show. But to bring another Young Guns movie out is going to be something that is worth shaking your head at since there's not a lot of wiggle room here considering how the first two were shot and the fact that there's not a lot of time that passes from when the group first gets together to when they finally fall apart. In the first movie all but three of the original group are killed, while in the second, Billy and Henry William French, along with Pat Garrett, were the only ones to survive since the movies, believe it or not, did get a couple of things right.
A lot of the characters that show up in the movies did exist, but figuring out who was on the right side and who was basically just a psychopath with a badge was a little harder since back in the old west things weren't always that simple. Billy the Kid was known to be a murderous individual and while he might have had his reasons he didn't find a lot of reason to hesitate when he had someone in his sights. The outlaws he rode with might have been a little more reserved at times but it's easy to think that they'd have to be at least half as nuts as he was just to survive when they were in his presence. But from Doc Scurlock's affair with a young Chinese woman to the deaths of key members of the Regulators and even how many were actually in the group, history tells a much different story than the movie. This is probably why the idea is still able to be brought up at this time since keeping it as fictional as possible while still clinging to bits and pieces of the truth would allow the story to be told in any sense. But again, at this point, one would almost have to go back to after Billy and Henry were the last men standing in order to keep telling the story, and that sounds as though it could be extremely boring.
Young Guns and Young Guns II were great because they were fun to watch, not because they were historically accurate. If history was this entertaining then it'd likely be easier to learn in school and draw in a much larger number of aspiring historians. But the truth is that history is as hit and miss with its exciting moments as life is in the current era, there's a lot of filler to consider and a lot of facts that have to be questioned more than once to get to the truth of any matter. Making another Young Guns movie is bound to be kind of difficult if only because no one in the movie, at least no one of significance, is going to be that young any longer. It's nice to see Emilio Estevez come back and all, but at the same time, one has to wonder why in the world anyone would bother with Young Guns any longer unless they were going to try to reboot it and possibly make a little more historical sense. Seriously, if someone actually looked at the history books and came up with a comprehensive story it's possible that it could be a great movie or limited series that people might watch, but another movie just feels a bit extraneous. But the excitement that already appears to be going around is likely going to help get this movie made and thinking that fans will want to see this is kind of hard to imagine, but it's bound to happen anyway.
It's so much that it shouldn't be made simply to censor the idea, it's that it might not make a lick of sense, even considering that the last two movies took the historical information and garbled it between the two features. However this movie is received it's likely to be one of those that a lot of people will think is going to be interesting until they see it.